Roasted vegetables make a wonderful accompaniment to Thanksgiving turkey, roast chicken, and glazed pork, and can be one of the star vegetarian holiday dishes. They are a simple and delicious way to eat your vegetables and while they can be made all year-round, they are a popular side dish for the holidays. Charred sweet potatoes, roasted peppers, crisp oven-baked baby carrots, or a medley of crispy vegetables are enjoyed by all members of the family, including kids.
Roasted Vegetables
Roasting vegetables in the oven help bring out the natural sweetness of the vegetables and can give an addictive depth of flavor. You can roast any vegetables that you may have in your refrigerator, including peppers, different types of root vegetables, tomatoes, whole garlic bulbs, and even pumpkin. While you can have these roasted vegetables as a side dish, you can also make them into soups, toss them into pasta and salads, and even smoothies.
How to Make Roasted Vegetables?
Roasted vegetables are fairly simple to make. You need 4 ingredients – vegetables, oil, seasonings, and salt. For the oil, it is best to use a flavorful oil like olive oil or avocado oil. Seasonings can be as simple as salt and pepper or as elegant as herbes de Provence. You can also try squeezing lemon juice as it helps freshen the roasted vegetables and gives them a burst of flavor. Let's look at the simple techniques that will ensure the perfect side dish.
How Do I Roast the Vegetables?
The do's and don'ts for roasting the vegetables include:
Vegetables should be cut into the same size so that they roast evenly. You can leave baby potatoes, baby carrots, green beans, and asparagus whole.
They should be properly coated with the oil and seasonings.
Spread the vegetables evenly so that they roast properly. Crowding them will cause them to steam and make them soggy.
You can use a baking sheet or a roasting tray. Both work well for roasting.
You can line the baking sheet or tray with parchment paper for easy clean-up.
Don't forget to pre-heat the oven to 400 °F. The right temperature ensures perfect roasting.
Remember to toss the vegetables half-way through the cooking time so that they roast evenly on all sides.
How Long Do I Roast The Vegetables?
You can experiment with different kinds of vegetables, but they take a different amount of time to cook in the oven. Here's a ballpark for the time you can roast the following vegetables:
Potatoes: 45 minutes
Corn cobs (whole): 40 minutes
Pumpkin, onions, carrots, sweet potatoes, Brussels sprouts, cauliflower, broccoli: 30 minutes
Bell peppers, asparagus, squashes, zucchini, green beans, cabbage (cut into 1-inch chunks): 25-20 minutes
Recipe for Simple Roasted Vegetables
Let's see the step-by-step method of roasting vegetables.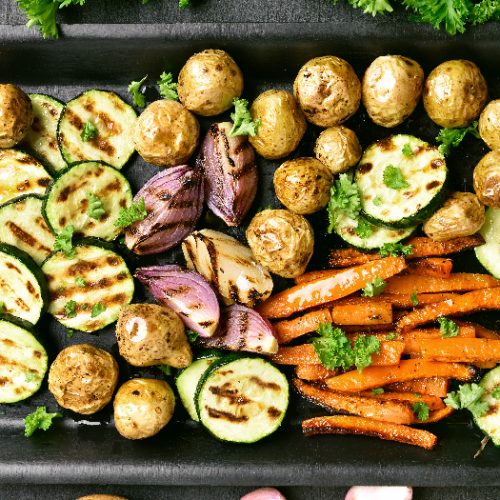 Simple Roasted Vegetable Recipe
You can take vegetables available in your refrigerator to make this wonderful dish.
Print
Pin
Rate
[1]
[2]
Ingredients
1

lb

baby potatoes

1

zucchini

1

carrot

1

red onion

1

tbsp

olive oil

1

tsp

Italian seasoning

salt and pepper [3]

to taste
Instructions
Preheat the oven to 400 °F. Take a baking sheet and line it with parchment paper.

Start chopping the vegetables so that they can roast evenly. Small white potatoes can be washed and wiped with a paper towel. Slice the zucchini into thick rounds and the carrots into thick long sticks. You can quarter the red onion for roasting.

Begin by roasting potatoes as they will take the maximum amount of time. Coat them with olive oil and seasonings. Put them into the oven and let them roast for 20 minutes.

Carefully take the baking tray out of the oven and toss the potatoes to the opposite side. Add the other vegetables and coat them with olive oil, salt, pepper, and Italian seasonings. Make sure each vegetable is coated well.

Before putting the baking tray in the oven, check that the vegetables have enough space and are not touching each other. Let the vegetables cook in the oven for 25 minutes or till they have a slightly charred appearance.

Transfer the vegetables to a serving dish. You can garnish the roasted vegetables with fresh herbs. Enjoy this simple, healthy, and flavorful dish!
How To Use Roasted Vegetables?
If you have enjoyed roasted vegetables and want to know how to use them in different ways, here are a few ideas:
Roasted red pepper soup can be made by blending roasted red bell peppers with a little water. Season with salt and pepper.
You can roast a whole garlic bulb. The flesh of the garlic cloves have a mellow taste and can be the base for soups and compound butter.
Roasted carrots can be frozen and added to smoothies.
For a nutrient-dense breakfast, you can use thick slices of roasted sweet potato as a substitute for toast for your scrambled eggs.
You can marinate roasted cherry tomatoes in olive oil and keep them for a month in an airtight container. They make an excellent addition to salads and pasta. You can also use them as a pizza topping.
Connect With Us
If you have tried this recipe, we would love your feedback in the comments section below. And while we can't taste it, we would love to see how it turned out! You can connect with us on Facebook or Instagram and tag your picture with #organicfactsrecipes. [4] [5]
Do you wish to share your winning recipes with us? Please click here and fill in the details to get started.