Sauteed green beans with butter and garlic is probably the most simple, easy-to-cook, and a flavorful side dish to your roast meat. Actually, it goes well with almost any meal and is ready in under 15 minutes. If you have some extra minced garlic, add it to the buttery sauteed beans at the very end. As you slow cook the beans in butter and garlic, the latter will melt to perfection and turn creamy when blended with the steaming beans, making it one of the best comfort foods you'll ever eat. So what are we waiting for? Let's get on with the recipe, shall we?
How To Make Sauteed Green Beans?
Whether it's a side dish to a fancy holiday meal or just a simple dinner recipe for a busy weeknight, sauteed beans always come to the rescue. Usually, people use string beans for this recipe, which are pan-fried until they turn a little brown. They are then tossed around in garlic to give it a delicious buttery and garlicky flavor. This is a 4-ingredient recipe, which will not take over 15 minutes to cook and serve. Let us look at a few things before we cook-up this dish.
Your beans will have more flavor if you cook them on high heat. In short, the more blistered the beans, the tastier they are.
Also, cooking it on high heat is the fastest way in which you can cook green beans.
It is also the most versatile side dish. You can have your own version of it. In our recipe, we have sauteed them with butter and minced garlic. However, you can have a tangy version of it by squeezing a lemon over it, a hotter version of it by adding chili flakes or sriracha, or make it cheesy by sprinkling parmesan or blue cheese over it. You can also add toasted almonds or peanuts to give it a nutty crunch, or simply add fried bacon to take the overall taste of the dish a notch. After all, how can bacon ever go wrong?
You can also make a healthier version of this dish by using olive oil instead of butter. Using olive oil checks all the boxes – low-carb, vegan, paleo, and Whole30, thus making it a healthier and more nutritious dish.
Before you start cooking the beans, use a paring knife to cut off the ends. Most of the green beans have strings and it is necessary that you pull the strings off before you cook them. If this is too cumbersome a task for you, it would be advisable to buy bags of stringless prepared green beans, which are available at most grocery stores these days. This will save a lot of your time.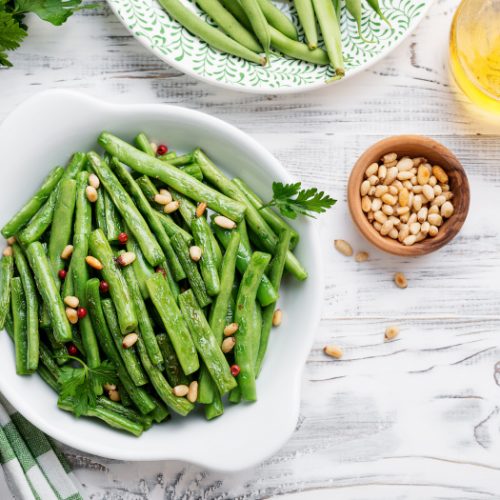 Buttery Garlic Sauteed Beans Recipe
Enjoy these buttery garlic sautéed green beans tossed around in butter and garlic! These simple yet delicious beans make for a perfect side dish to any meal!
Print
Pin
Rate
[1]
[2]
Ingredients
1

tbsp

butter/ olive oil

3

garlic cloves [3]

finely minced

1

lb

green beans

with the ends cut and preferably stringless

1/2

tsp

salt

(you can alter it as per your taste)
Instructions
To make sauteed green beans, first, take a large pan and put it over high heat. When it has reasonably heated up, add olive oil and green beans. Note that if you are using butter, ensure that the heat is somewhere between medium to low as butter can burn very easily.

Now, cook the green beans, while occasionally tossing them until they start to soften and blister in patches. Once you see them turning black in a few spots turn off the heat. This should ideally not take more than 5 minutes.

Once done, add minced garlic to the pan and cook it along with the beans. The fine raw garlic pieces will mesh well with the beans and butter/oil. Keeping tossing the beans and mixing the ingredients well for about a minute or more till you get a strong garlicky aroma. Once done, remove the pan from the heat and toss salt all over it and mix well so that it is evenly distributed. You can also add a dash of pepper if you like. Now serve it hot with soup or any main course meal such as roast chicken or beef. Enjoy!
Notes
Some people like to combine butter and extra virgin olive oil together. This is to get the flavor of the oil along with the cooking temperature of the butter. This will ensure that the beans and garlic are cooked to perfection without burning them.
You can trim the ends of the green beans and blanch them 2-3 days in advance. All you'll need to do is refrigerate them properly by keeping them in a ziplock bag or an airtight container.
You can change the dressing of the sauteed beans as per your preference. You can make it tangy, spicy, cheesy, or nutty. You can replace the garlic flavor with lemon juice, cheese, chili flakes, or toasted nuts. Be experimental with this dish if you want.
How To Eat Sauteed Beans?
Sauteed beans are best eaten as a side dish along with the following main course dishes.
If you try our recipe, let us know how it turned out. While we may not be able to taste it, we'll love to know your experience.