A shandy is a combination drink that is refreshing and quite popular in the summer and isn't as alcoholic as many other sunshine cocktails.
What Is Shandy?
A shandy is a drink that is composed of half beer and half of a non-alcoholic drink. Since half the drink is beer, shandies are alcoholic, and not gluten-free, unless a gluten-free beer is used. However, the alcohol content in bottled or canned shandies is typically very low.
A summer shandy is usually made with lemonade, although many breweries now make a style of summer shandy that is simply lemon- or citrus-flavored. Although these beverages were initially popular in Europe, they are now widely available and sought after in North America as well. There are many different variations of shandies, such as making a sloe gin that holds the classic foam of sloe gin fizz without the egg white. Sometimes, lemon-lime soda is used instead of lemonade, and other versions even use ginger beer. Traditional shandies are more often seen in Britain, the US, and Australia. However, different flavor variations exist all over the world. [1]
Nutrition Facts & Alcohol Content
Although it will differ from brand to brand, on average, it will have 130 calories per 12 ounces, which includes 12 grams of carbs. Canned or bottled shandy usually have alcohol content or ABV clearly stated in the advertising label. Most commercial brands tend to contain around 4.2 to 4.5 percent ABV, which is the same as light beer. If you stick to equal parts beer to non-alcoholic mixer or soda, you can estimate the ABV of the shandy is half of the alcohol by volume of whatever beer you use.
Radler Vs. Shandy
Let us take a look at the differences between Radler vs shandy.
A Radler and a shandy are almost identical. Many people actually believe that they mean the same thing. [2]
As a category, a shandy is wider, including versions made with ginger beer or fresh juices. Radler typically refers to only citrus-based flavors.
The Radler originated in Germany and was traditionally beer halved with carbonated lemonade, which is very close to its British counterpart made with lemonade.
In recent years, since the craft brewing industry has taken shandy to mean lemon-flavored, low ABV beer, Radler has also become synonymous with a low ABV, grapefruit-flavored beer.
How To Make Shandy?
Let us take a look at how to make this drink!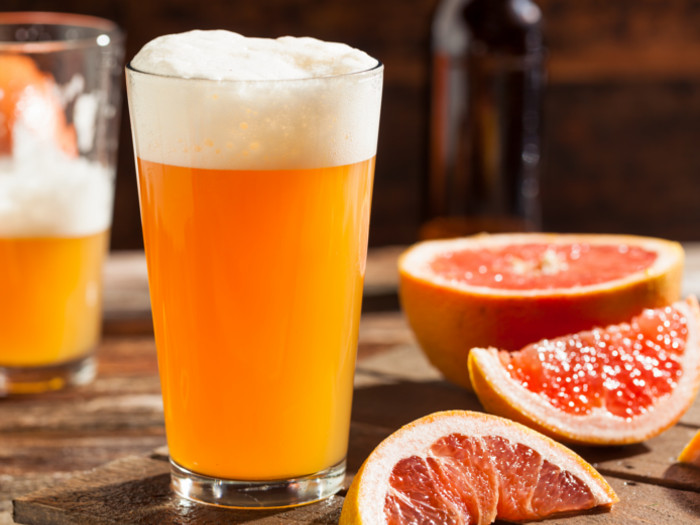 Refreshing Shandy Recipe
Apart from lemonade, ginger beer or ginger ale are also used for making shandy. Here we use a homemade lemonade instead of the usual carbonated soda.
Print
Pin
Rate
[3]
[4]
Ingredients
6

oz

light beer

6

oz

lemonade
Instructions
Start with a light beer. Wheat beer, light lagers, or pilsners are good styles to use for this combination drink.

Make your lemonade. If using store-bought lemonade, try to pick one with low sugar content to avoid too much sweetness in the final drink.

Pour 6 ounces of beer into your glass. Top it off with 6 ounces of lemonade.

Enjoy this refreshing drink chilled.
Risks & Side Effects
Knowing the approximate alcohol content in the shandy you are consuming is necessary to know before taking a sip, especially if you intend to drive or engage in any activity that requires focus and skill. The ABVs of shandies vary widely and could lull the drivers to go over the drink-drive limit. [5]
According to the Centers for Disease Control and Prevention, people who should not drink alcohol include women who are pregnant, individuals younger than 21 years of age, and people who are recovering from alcoholism or cannot control the amount they drink. The side effects of drinking alcohol in excess include dizziness, nausea, lowered inhibition, slurred speech, and in severe cases, a blackout. [6]
According to The 2015-2020 Dietary Guidelines for Americans, if alcohol is consumed, it should be done in moderation. The guidelines define moderate drinking as up to 1 drink per day for women and up to 2 drinks per day for men, which applies to adults of legal drinking age. The quantity of the drink is dependant on its alcohol content. [7] [8]