For ardent Middle Eastern cuisine lovers, it is imperative to have shish tawook on the list of Lebanese favorites. Pieces of tender meat succulently skewered and grilled to perfection makes for an amazing treat. Moreover, coupling it with hummus or baba ganoush makes it ideal and binge-worthy. However, you need to know the key ingredients here – lemon, yogurt, and garlic. These three combined in the right quantities will give you the wholesome and finger-licking meat goodness.
What is Shish Tawook?
Shish tawook is a traditional Middle Eastern meat dish. It is tender juicy chicken marinated in yogurt, lemon, and garlic served with pita bread. These grilled chicken skewers are incredibly well-known in Lebanon but are also commonly found in Turkey, Egypt, Syria, and the United Arab Emirates. The Ottoman empire ruled Lebanon between 1516 to roughly, 1918 – which is why there is a prominent Turkish influence in Lebanese cuisine. [1]
Many recipes call for a pinch of paprika and a touch of tomato paste blended with lemon, garlic, and yogurt. This combination is an ideal one as the addition of the former gives a robust depth to the lighter, brighter flavors of the latter in the marinade.
Shish Tawook Recipe
This recipe is all about the perfect marinade. The three most vital ingredients in the marinade consist of yogurt, lemon juice, and garlic. You can also add tomato paste to give a rich red color, and some other Middle Eastern spices including paprika, cinnamon, oregano, and ginger. Read along and give this recipe a try!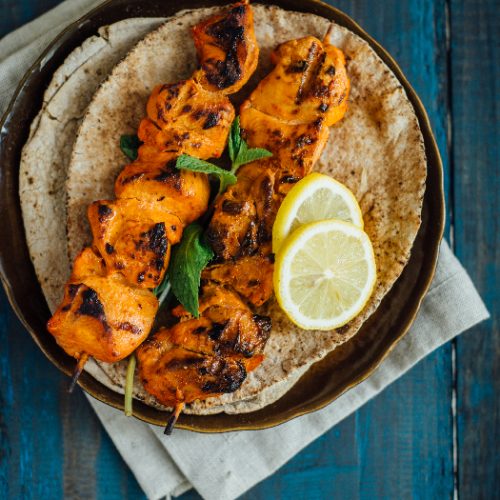 Yummy Chicken Shish Tawook Recipe
Try your hands at this popular middle-eastern grilled shish tawook recipe. Enjoy the succulent pieces of chicken perfectly marinated in a drool-worthy mix of yogurt, lemon, and garlic.
Print
Pin
Rate
[2]
[3]
Ingredients
2

lb

chicken breast

cut into 1-1 1/2 inch pieces
For the Marinade
1

lemon

juiced

6

garlic cloves [4]

minced

1/4

cup

plain yogurt

or Greek yogurt

2

tbsp

olive oil

1

tsp

ground thyme

1

tsp

paprika

1

tsp

salt

2

tsp

tomato paste [5]

1/4

tsp

ground black pepper
For the Skewers
6-7

wooden skewers

soaked in water
Instructions
In a small bowl, mix all the marinade ingredients together.

Place the cubed chicken into a flat, sealable container and pour the marinade over the chicken. Mix the chicken with the marinade to be sure all the pieces are well-coated.

Cover the container and let it marinate in the refrigerator for at least 4 hours, up or overnight, whatever be your preference.

Preheat your grill to medium heat, roughly 350ºF. You should be able to hold your hand about 3 inches from the cooking grate for about 6-7 seconds.

Thread the chicken pieces onto the soaked skewers, pressing the pieces up against each other.

Grill the chicken skewers for 8-10 minutes each side, until the chicken is cooked golden.

Serve the shish tawook with pita bread and sliced tomatoes or with rice and grilled vegetables.
Notes
Store any leftovers in an airtight container for up to 3 days.
Marinade the chicken for a minimum of 4 hours, but preferably overnight in the refrigerator to allow the chicken to tenderize. It makes the chicken more juicy and flavorful.
If you are using bamboo sticks for grilling, it is best advised to soak it in water for at least 30-45 minutes.
You can reheat the skewers once, and if you do, it is best to cover with foil so that they don't dry out.
You can substitute the spices used in this recipe with a za'atar spice mix if you so prefer, but this is solely based on your preference.
FAQs
What is the difference between shish tawook and shawarma?
The basic difference between the two is the spices that are used in preparing and cooking. Shawarma most often adds warmer spices such as cinnamon and allspice. It omits the lemon tinge, for deeper flavored meat.
What type of yogurt do you use to make the marinade?
You can typically use plain whole milk yogurt. Since this recipe is very flexible, you can substitute it with low-fat plain yogurt or plain Greek yogurt.
What do you serve with shish tawook?
Serve these as hand-held food in pita bread with lettuce and garlic sauce. You could alternatively serve it with rice, quinoa salad, or chicken caesar salad too.