Guava paste or goiabada is a delicious way of eating the fruit. It is very popular in most of Latin America and the Caribbean. What may have started as a substitute for quince marmalade, has achieved fame on its own. It is also an excellent means of preserving the fruit and using over-ripe guavas. The vibrant magenta shade looks as good as it tastes. It is delicious by itself. But it is equally popular in desserts. It is also sometimes added to savory dishes for contrasting flavors.
What is Guava Paste?
Guava paste is a dense jelly-like paste made with the fruit puree and sugar. Pectin is sometimes added to give it a jelly-like consistency. It is also known as goiabada in Portuguese and pasta de guayaba in Spanish. It is a popular dessert ingredient in most of Latin America, particularly in Brazil. So fond were the Portuguese of this preparation that they also introduced it to their colonies. For instance, they brought it to Goa in India where it is known as perad. Although the most common texture is a thick jelly-like slab, it is also available as a thin paste, and as a spread.
How to Use Guava Paste?
The dense guava paste can be addictive on its own. The sugary sweet taste is balanced by the unique taste of the fruit. The sweetness of the paste can vary according to the preparation. Some make it very sweet, while some prefer it less so. With its flavor, the paste is a popular addition in desserts. But the dense sweetness goes equally well in savory dishes. If you've bought a can of guava paste and aren't sure about how to use it, here are some of our suggestions:
With Cheese: In Brazil guava paste is most often eaten with Minas cheese. The combination is known as Romeu e Julieta or Romeo and Juliet. Like the star-crossed lovers, this yin and yang pairing is enjoyed as both appetizer and dessert. The sweet paste is the perfect accompaniment for the soft and salty Minas cheese. To serve, you can simply put cubes of cheese and the paste on cocktail sticks. Guava paste is delicious when baked with brie cheese.
As a spread: The simplest way to enjoy the paste is by just spreading it on toast. You will need the spread like consistency for this. Serve with piping hot coffee for a perfect breakfast.
Cake filling: Rocambole or Brazilian roll is a Swiss roll where a guava paste is used as a filling. You will need a thinner consistency, such as a spread, for the filling. You can use it in place of the strawberry jam in our Classic Swiss Roll Recipe. You can add a little square of the paste in muffin batter before putting it in the oven for muffins with a guava surprise.
Pastry filling: The popular Portuguese cake, bolo de rosas or rose cake, is made by filling dough rolls and arranging them in a rose-shaped pattern. Similarly, guava pastelitos, popular in Puerto Rico and Cuba, are puff pastries with the paste filling. Small squares of the guava paste and cream cheese are placed between sheets of puff pastry. This sweet and salty dessert is an unexpected surprise! A similarly popular dish is the guava cheese empanadas.
With meat/poultry: When used with meat or poultry, guava paste can add a contrasting sweet flavor. It can be used as a stuffing in chicken breasts and then baked or grilled. You can also use it for glazing ham. For the recipe, substitute it in place of honey in our recipe for Baked Ham With A Delicious Honey Glaze.
How to Make Guava Paste?
You can make guava paste at home. It takes a little time, but it's easy and requires no great skill. All you need is guavas and sugar.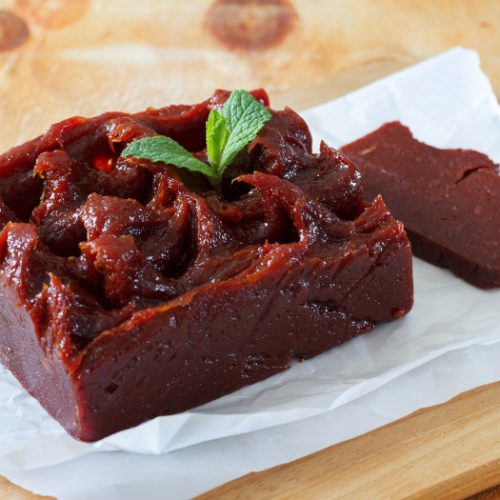 Guava Paste Recipe
This recipe takes a little time, but the result is worth it. You can use the guava paste for pastry or cake filling, add it to your savory dishes, or serve it with salty cheese.
Print
Pin
Rate
Cook Time:
1
hour
10
minutes
Total Time:
1
hour
40
minutes
Ingredients
2.2

lbs

guava

4-5

cups

sugar

1 1/2

cup

water
Instructions
To prepare, wash the fruits thoroughly and cut them in half. Scoop out the seeds with a teaspoon and gather them in a bowl.

Pour a cup of water over the seeds and pulp. Let them soak in water for at least half-an-hour.

Strain the pulp and seeds, making sure that you get as much of the pulp as possible. Be careful in ensuring that the seeds are strained out.

Meanwhile, put the cut fruits along with the skin in a thick-bottomed pan with half a cup of water. Bring the fruit and water to a boil.

Turn down the heat and simmer the fruits in the water, stirring the pot frequently to prevent them from sticking to the pan.


Add the strained pulp to the pan of softened fruit.


When the fruit has softened, pour it into a blender along with the pulp. Puree the fruit until it resembles a thick smoothie.


Measure the pulp and add them back to the pan. Add an equal amount of sugar and stir in.

Place this on low heat and cook. Keep stirring it with a wooden spoon to ensure that it does not stick to the bottom and scorch. it should reduce by almost half. This will take time, almost an hour. The mixture will get thicker, forming a thick layer on the spoon.

Take it off the heat and beat with the wooden spoon for a couple of minutes. It will thicken further as it cools.

The guava paste is ready. You can store it in sterilized jars.
Notes
Be careful while cooking the guava paste. The candied paste is quite hot. Ensure that it is cooled before pouring it into jars.
Tell us about your favorite way to eat guava paste. If you tried our recipe, tell us about your experience. While we cannot taste it, we will love to hear from you!