Honey baked ham conjures up warm, fuzzy feelings and images of holidays, delicious family dinners, and a table laden with festive dishes and wine. The sticky honey glaze flavored with pineapple juice elevates baked ham to an elegant main course dish. While this version of ham is usually made during Easter or Christmas, you can easily make it for Sunday family lunches too with this simple recipe. So, let's find out more.
How To Make Baked Ham For The Holidays?
It is best to make a honey glazed baked ham with a fully cooked city ham bought from the store. This makes things easier when you are entertaining and ensures an easy-breezy meal as you only have to bake the ham with the glaze. The other variety is the country ham, which is dry-rubbed with salt and spices. It is not the ideal choice as it can be salty and dry, and does not lend itself to baking. You can also buy the smoked variety of ham if you prefer.
Honey baked ham pairs well with mashed potatoes, roasted vegetables, or a vegetable gratin and greens. Seasonal salads are a nice touch too. You can try our recipes for the perfect side dishes and salads for your holiday menu. Here are our favorites:
Perfect Baked Ham Recipe
This baked ham recipe is a classic, with a beautiful sticky honey glaze that can be easily made at home. If you can get the spiral-cut ham from your store or online, it can make the cutting of the meat much easier.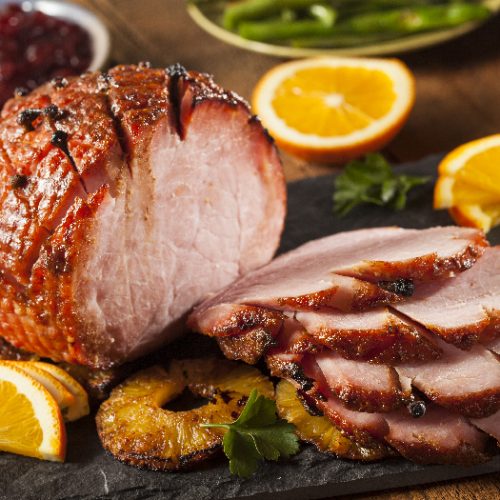 Honey Baked Ham Recipe
This honey baked ham with a deliciously buttery, sticky glaze is a crowd-pleaser and a holiday favorite!
Print
Pin
Rate
Total Time:
2
hours
30
minutes
[1]
[2]
Ingredients
8-10

lb

bone-in or boneless fully cooked ham

1/3

cup

pineapple juice [3]

1/2

cup

honey

1/4

cup

brown sugar

1/2

tsp

ground cinnamon

1/4

cup

whole cloves

2

tbsp

butter
Instructions
First, you need to prep the ham for baking. Let it come to room temperature, which could take anywhere between 1-2 hours.

Then, cut the rind off to ensure that the ham is juicy and flavorful. For this, cut a line through the rind around the shank end. Using a sharp knife, run along the line of the rind to detach it from the fat. Using your fingers, you can gently remove the rind from the ham and discard it.

Meanwhile, preheat the oven to 350°F (150°C). Lightly grease a roasting pan or a deep baking dish.

You can now place the ham on the greased pan. Score the surface of the ham with shallow diagonal cuts, about 1/4 inch, making diamond shapes. Insert cloves into the diamonds.

To make the glaze, warm the butter in a saucepan until it is golden brown. Add the honey, sugar, cinnamon powder, and pineapple juice and let it simmer for 3 minutes till the sugar is completely dissolved. Keep on low heat till it gets a honey-like consistency.

Now, use a basting brush to slather the glaze generously, all over the outside. Reserve some of the glaze liquid for later.

Cover the ham with an aluminum foil tent to prevent it from drying out in the oven. Bake the ham for 2 hours,

or until internal temperature reaches 110 degrees.

Remove the ham from the oven and take off the foil tent for now. Increase the oven temperature to 400 degrees. Brush the remaining glaze all over the ham and bake it in the oven, with the foil tent, for an additional 15 minutes.

Remove from the oven. Discard the foil tent and allow the ham to rest for 15 minutes before serving. You can garnish this delicious glazed ham with pineapple slices or orange slices.
Notes
You can add a tablespoon of orange juice to the glaze for a deeper citrus flavor. If your glaze gets hard, warm it in the saucepan on low simmer till it reaches a honey-like consistency again. If you find the taste of cloves overpowering, you can skip it. Instead, you can use toothpicks to put canned pineapple slices or canned cherries for an old-fashioned ham.
Honey Baked Ham Leftover Ideas
Sometimes, the best part of the baked ham is the leftover dishes you can experiment with! Honey baked ham can stay in the refrigerator for 5-6 days or it can be frozen for up to a month.
Breakfast: The ham always makes for a great breakfast addition. You can chop and add the ham to cheesy scrambled eggs or a stuffed omelet.
Lunch: A great lunch idea is ham sandwiches, with Swiss cheese and Dijon mustard. Grilled ham and cheese sandwiches are always a hit with the children but you can dress yours up with baby spinach or kale.
Dinner: Ham with scalloped potatoes is a favorite classic. You can use the ham for casseroles and gratins, or add it to pasta. A simple dinner can be ham served warm or cold, with a salad and roasted vegetables.
Connect With Us
If you have tried this recipe, we would love your feedback in the comments section below. And while we can't taste it, we would love to see how it turned out! You can connect with us on Facebook or Instagram and tag your picture with #organicfactsrecipes. [4] [5]
Do you wish to share your winning recipes with us? Please click here and fill in the details to get started.