Who said thyme is only good for flavoring your meat? It also makes a flavorful tea. Thyme tea (or tisane) is probably one of the most popular herbal teas. Its earthy flavors also seem to pack a punch of antioxidants that can make it very beneficial for our health. Learn more about its benefits and how to make it.
What is Thyme Tea?
Scientifically known as Thymus vulgaris, this herb is a common garden herb. It can be quite easy to grow and is fairly widely used in culinary applications due to its unique flavor and aroma. It seems to have also been a part of medicinal traditions for thousands of years and may have a number of potent active ingredients that can make it a powerful herbal remedy. The active ingredient, thymol, which may be found in this herb, can be a powerful antioxidant. The tea also boasts a few other possible unique compounds that may give it such an impressive range of effects. [1]
Watch Video: 7 Surprising Benefits Of Thyme Tea
7 Surprising Benefits Of Thyme Tea For Relieving Stress | Organic Facts
Health Benefits of Thyme Tea
Thyme contains possibly high levels of vitamin C, vitamin A, copper, iron, manganese, potassium, phosphorus, and antioxidants like thymol and carvacrol. These compounds may be responsible for many of this tea's possible health benefits.
May Help in Reducing Cough
Thyme has long been associated with coughs and it turns out that your granny may have been right about its potential superpowers. In a randomized controlled trial in Germany, volunteers with acute bronchitis saw significant relief when they took a thyme-ivy combination for 11 days. Thyme tea can offer relief to your throat while helping in reducing cough. [3]
May Improve Digestion
If you are suffering from an upset stomach, nausea, constipation, bloating, or cramping, thyme tea may be the perfect remedy. It may have some natural anti-inflammatory properties and perhaps a soothing nature, as well as possible antibacterial effects, which can help get rid of stomach bugs and possibly promote proper digestion, while probably also normalizing bowel movements. A review of different studies found that thymol and carvacrol in thyme can benefit our digestive system in numerous ways. It can improve liver function, protect against any damage, help treat intestinal infections, and reduce inflammations. [4]
Potential Antioxidant Properties
Thyme tea seems to be rich in antioxidants with one study placing it among the top five most potent teas in its antibiotic content. Most of the available research on the antioxidant properties of thyme focuses on thyme oil, a more popular thyme derivative. The possible active ingredients in thyme have been linked to preventing or mitigating many diseases, including vertigo, multiple sclerosis, tinnitus, hepatitis and shingles, and reducing overall oxidative stress in the body. This is due to the antioxidants found in thyme oil, including thymol, luteolin, and others. A 2017 study on thymol, published in Frontiers in Pharmacology, elaborated its antioxidant, anti-inflammatory, immunological, and anti-microbial properties. [5] [6] [7]
You can learn more about it in our article on 21 Incredible Health Benefits of Thyme Essential Oil.
Potential Remedy for Coughs
For respiratory issues, only a few herbal teas may be better than this one, as it has both antibacterial and anti-inflammatory properties, meaning that it can help not only soothe coughs and congestion but can also attack the underlying pathogen to help you get better faster. [8]
May Aid in Weight Loss
It is often known as the weight loss tea. This herbal remedy can suppress the appetite, yet still may boost energy and deliver valuable nutrients, plausibly leading to less overeating and snacking between meals. An animal study found that thymol, one of the major constituents of thyme, prevents high fat diet-induced obesity. It was found to reduce fat accumulation, lower lipid action, improve insulin, and leptin sensitivity. [9]
You can explore more options with our pick of 9 Best Teas for Weight Loss.
The compound thymol found in this tea can also optimize metabolism, which can help in fat burning and weight loss efforts. [10]
Traditionally Used During Pregnancy
While it is not recommended that pregnant women drink thyme tea early in their pregnancy, for fear of possible miscarriages due to the stimulated menstruation, some traditional medicine approaches use this tea to induce labor. However, using herbal teas during pregnancy should be discussed with your individual doctor, based on your specific case. [11]
May Ease Menstrual Cramps Naturally
Thyme tea may be very effective at eliminating menstrual cramps, probably due to the potential anti-spasmodic effects of certain active compounds. This tea can also help eliminate the pain and discomfort of menstruation, and might even provide relief in other side effects, which may include mood swings. [12]
May Help Boost Immune System
The high vitamin C content and possible antioxidants found in thyme tea can make it an ideal boost to the immune system, which may help in relieving cold and flu symptoms quickly. Vitamin C can stimulate the production of white blood cells, while powerful antioxidants like thymol and apigenin may help relieve oxidative stress, possibly by neutralizing free radicals produced in the body. The potent natural antibacterial and antiseptic nature of this tea will also help eliminate infections and pathogens. [13]
Can Improve Cognition
Early research shows that thyme tea can help improve memory and focus and slow down beta-amyloid deposition in the brain. A Brazilian study found that apigenin, a compound found in thyme, improved the connection between brain cells. It boosted hormones that can delay the onset of neurodegenerative and psychiatric disorders such as Parkinson's disease, Alzheimer's, schizophrenia, and depression. [14]
Can Aid in Improving Heart Health
Studies have indicated that thyme may benefit our heart, especially for people who suffer from hypertension. According to an animal study published in the Journal of Hypertension, rosmarinic acid, a compound present in thyme extract induced normalization of blood pressure. It could hence be used as an antihypertensive. Drinking a cup of thyme tea may help people with high blood pressure. [15]
Side Effects of Thyme Tea
According to the FDA, thyme is generally considered safe for use. If you are taking thyme supplements, keep in mind that herbal supplements do not go through the same FDA scrutiny as prescription drugs. Some side-effects of thyme tea that you should be aware of are:
Migraine: If you suffer from persistent migraines, we recommend that you take a doctor's advice. Carvacrol and thymol have been listed as migraine-triggering compounds, according to one study. However, these effects are more pronounced in essential oils and diluted in tea.
Nausea: Drinking too much thyme tea can result in nausea, dizziness, vomiting, and stomach pains.
Allergies: As with any other type of herb, some people will have allergic reactions to thyme, particularly if a person is also allergic to other plants within the Lamiaceae family, including rosemary, mint, and oregano.
Pregnancy: While the FDA deems thyme as generally safe, this designation is for using thyme as a spice and not as tea. Hence, it is best to talk to a trained and certified herbalist or a doctor before taking thyme tea during pregnancy.
How to Make Thyme Tea?
You can make your own batch of thyme tea at home with nothing more than lemon, honey, and a handful of thyme. If you have grown your own thyme in your home garden, you will need to dry it before preparing thyme tea. Cut the stalks and wash them thoroughly, dry them, and then tie them in a small bundle and hang them upside down. The thyme will take about 2 weeks to completely dry. At that point, it will be easy to remove the dry thyme leaves; you can crush them into a fine tea powder, or leave them whole to be used in your brew.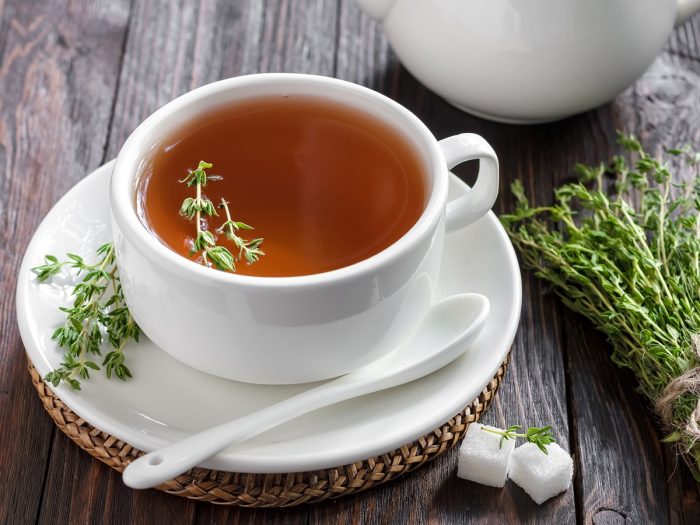 Rejuvenating Thyme Tea Recipe
Apart from relieving your cough and cold, thyme tea packs many other benefits. Now you can easily make a batch at home with our recipe.
Print
Pin
Rate
[16]
[17]
Ingredients
1

tsp

dried thyme leaves

2

cups

water

filtered

1

tsp

honey

1

slice lemon
Instructions
Bring the water to a boil, then turn down the heat to a simmer.

Add the dried thyme leaves and cover the pot.

Allow the mixture to steep for roughly 5 minutes.

Remove from heat, allow to cool for 1-2 minutes.

Strain the tea into a cup, add the honey and lemon slice (if desired) and enjoy!
Enjoy your thyme tea and tell us about your experience. If you have another recipe, share it with us in the comments below.