Some of the home remedies for acne include tea tree oil, zinc, vitamin A, vitamin E, and garlic, intake of excess of water, fenugreek, mint juice, strawberries, turmeric, garlic, cucumber, sandalwood, egg and regular skin cleaning.
Home remedies for acne are available for patients suffering from this acute skin problem. Usually, doctors suggest the consumption of lot of water and physical activity, which keep the skin glowing and healthy in the event of acne. However, those behavioral remedies don't always work, and other techniques must be tried.
What is Acne?
Basically, acne refers to the blackheads, whiteheads, and short pink bumps called papules, which appear on the skin in the form of cysts as a result of prolonged contact with dust, polluted air, sweat, or dirty water. Acne usually occurs on the face, but areas like the legs, buttocks, shoulders, chest, and back are also not spared by this skin condition. According to the dermatologists at the Acne Research Institute in California, men and women can even experience acne at 25 or 35 years of age, sometimes even older, which many people don't know, since acne is typically associated with teenagers and pubescent individuals.
Home Remedies for Acne
There are many natural treatments, available as home remedies for treating acne.
Tea Tree Oil: This is one of the most popular remedies for curing acne problems. This diluted oil is applied on the spots affected by acne. There is a strong belief that this oil consists of terpinen-4-ol, which eliminates bacterial activity and easily kill the bacteria permanently. It neutralizes the acne bacteria called Propionibacterium and other dangerous bacteria, which dwell on your skin and can quickly develop into acne.
Zinc: Studies have proved zinc to be an effective home remedy for curing pimples or acne. It is always recommended by doctors to consume zinc in a proportionate amount.
Vitamin A: The tablets of vitamin A are natural cures for the effective elimination of acne. It is packed with antioxidant power and promotes glowing, healthy skin.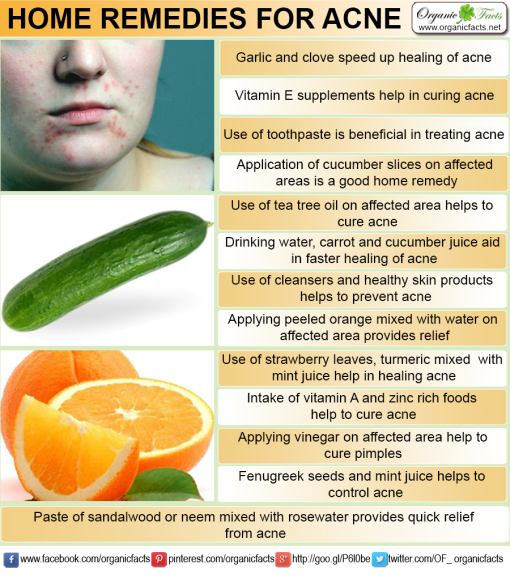 Vitamin E: This essential vitamin helps in countering pimples, since it is a natural antioxidant that eliminates free radicals that are associated with skin disease. The common vitamin E supplements are soft gelatin capsules containing pure vitamin E along with glycerin, water and soybean oil.
Cleansers: According to the Mayo Clinic, using cleansers and other healthy beauty products is helpful in avoiding acne.
Orange Pack: Apply a peeled orange mixed with water to the area affected by pimples or acne flare-ups.
Cucumber: Grated pieces of cucumber can be applied to the acne areas for quick relief and rapid improvement over the course of only weeks!
Garlic and Clove: A fresh garlic clove can be rubbed against the area affected by acne for rapid improvement in the condition.
Drinking Water: A person suffering from acne should consume at least one liter of water per day to impart a charming, healthy and glowing skin. Water flushes out toxins from the body and keeps the skin hydrated.
Fenugreek Leaves: A paste of fenugreek leaves should be applied at night and then washed off in the morning.
Toothpaste: You can apply toothpaste on the acne to relieve swelling and pain every night for at least a week to experience a significant improvement.
Mint Juice: You can always apply mint juice on the face as it is highly natural and nutrient-rich substance that has been connected with anti-inflammation and a reduction in acne symptoms.
Strawberry Leaves: After eating strawberries, do not throw away their leaves, as these can be helpful in curing pimples on the face.
Turmeric and Mint Juice: Every night, you can apply a paste of turmeric mixed with mint juice. You can remove it by washing or cleaning your face with lukewarm water after thirty minutes.
Carrot and Cucumber Juice: Drinking cucumber or carrot juice is also beneficial for curing acne due to the essential vitamins they both contain.
Vinegar: Try applying a soaked cotton ball in vinegar to your skin, as this can helps in curing pimples and reducing swelling.
Egg: Even the paste of an egg can be helpful in getting rid of acne.
Sandalwood or Neem Paste with Rose Water: Make a paste of sandalwood or neem mixed with rosewater and apply to the affected areas of pimples for quick relief!
Curing acne using home remedies is a long process, so a person needs to be patient while employing all these remedies. However, home remedies for curing pimples have no side effects, considering that they are natural and homemade.
References: Acne Research Institute and Mayo Clinic