A mug cake is like a best friend on days when you want to curl up on the bed and have something sweet. It is a lot like a low-key person; no demands, no high maintenance, barely takes a few minutes to get ready, and always there for cheering you up. It is warm, comforting, and sweet. Everyone needs a friend like that in their life. So here we are, sending love and hugs your way by sharing a simple mug cake recipe with you.
How to Make a Mug Cake?
Mug cake is a trouble-free dessert for all cake lovers who want a sweet treat ASAP. It gets ready in less than 15 minutes and tastes like heaven. Most ingredients are pantry staples, which truly makes the cake a favorite among people. The amazing part about this creation is that you don't have to be an adept baker. Just following the recipe is all. But first, here are a few not-so-secret tips for you to make a delectable cake.
Tips and Tricks
The mug we have taken here is a regular 14-ounce coffee mug. If you are using a smaller mug, you want to keep it on a plate so that any potential overflow happens on it.
Feel free to use any oil or butter of your choice. Also, since this is a mug cake, you need not use eggs in it. The texture will be soft and gooey.
If you want to skip white sugar, you can use brown sugar. But do make sure you mix the cake batter well so that the crystals dissolve properly.
You can replace regular milk with soy milk or almond milk. Many people also try to replace milk entirely with vinegar and warm water. The ratio is 90% water and 10% vinegar.
Most mug cakes take between 60 – 100 seconds to make. The texture of the cake may change so if you are making this cake for the first time, start with microwaving it for 60 seconds. Also, mug cakes are meant for the microwave only, so don't make them in the oven.
You can have the cake once it cools or if you want to make it extravagant, top it with interesting things like whipped cream, ice cream, caramel, chocolate syrup, and Nutella. You can also go for sprinkles, Oreo cookies, fruits, and berries.
Let's start making the cake!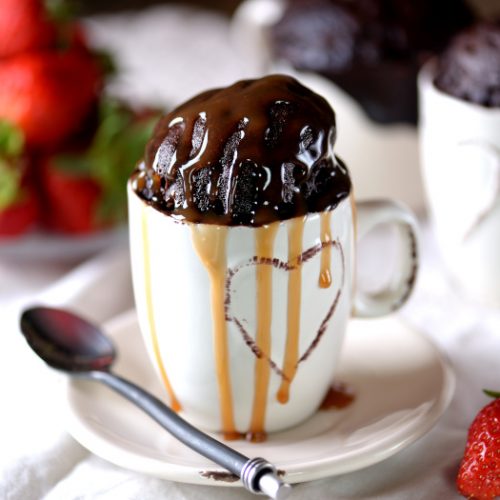 Instructions
Take a microwave-safe ceramic mug and add flour, cocoa powder, baking powder, salt, and sugar to it. Mix it well with a fork.

Now, add milk, vanilla extract, and butter to the dry mixture and give the batter a good stir. Do make sure that there are no lumps.

Stir in the chocolate chips in the mixture and then microwave on high for about 60 - 90 seconds. You will see the cake rising till the brim of the mug, so that's when you stop.

Let it cool for 4-5 minutes and then top it with your favorite chocolate syrup, chocolate shavings, or berries and enjoy.
Notes
If you are making this cake for the first time, microwave it for one minute and see how it turns. You can top the cake with amazing things like a scoop of vanilla ice cream, cherries, cream, or fruits you like. You can make the cake ahead of time as well. Just remember to keep it covered with a lid.
Other Variations
Coffee cake: If coffee is a hug in a mug, then the coffee cake is like a bear hug in a mug. Add a teaspoon of instant coffee powder to your cake mixture to make it.
Peanut butter mug cake: If you are a peanut butter fan, this recipe is for you. After you are done whisking the cake mixture, add a dollop of peanut butter into your cup. With the help of a spoon, push the nut butter inside the batter in such a way that it hides completely. Make sure you don't deliberately mix the cake batter and peanut butter.
Funfetti mug cake: Want to surprise your kids with something nice? Go ahead with this brilliant idea. Replace the cocoa powder with 1 tablespoon of rainbow sprinkles. Add these colorful treats after you have mixed all your ingredients. Enjoy your vanilla cake with happy, bright sprinkles.
Blueberry muffin mug cake: You can totally have cake for breakfast if it is this cake. A tantalizing, blueberry-studded breakfast is anytime better than oatmeal, right? So instead of the cocoa powder, add blueberries to the mixture and microwave for 20 seconds more than the usual time. Because of the juicy berries, it takes a bit longer to cook.
Do you have a mug cake recipe? We would love to know. So, do share it with us on our recipe submission page!