Glazed carrots are a classic side dish to your otherwise heavy meal that will never go out of style. Whether you choose to make it for Thanksgiving and Christmas or have it all year long, glazed carrots are a simple side dish recipe, which is a little savory and a little sweet but loved by everyone. An easy and low-cost side dish, glazed carrots made of honey/maple syrup/brown sugar and butter, just takes a few minutes to be prepared. All you need is just a handful of ingredients and about 15 minutes and they're ready to be served. Let us take a look at the recipe below.
How to Make Glazed Carrots?
Carrots are usually sweet this time of the year, which is why most people do not bother to peel them. Just a good scrub in running water suffices. You may either choose to trim the edges and glaze the whole carrot, or cut them into medium-sized tender coins to simmer them in butter and brown sugar/honey/maple syrup. You may even use whole baby carrots for the recipe.
The method of cooking carrots in both butter and sugar/honey until they turn tender and evenly glazed is known as Vichy in French. While you may use sugar or maple syrup to glaze the carrots, it would be advisable to use honey instead, that too in smaller quantities as it has a greater complexity of flavor and is comparatively less sweet. This dish is later garnished with herbs like parsley to give it a fresh aromatic enhanced flavor. When paired with roast lamb or turkey, the side dish simply tastes divine! Come take a look at the detailed recipe below. [1]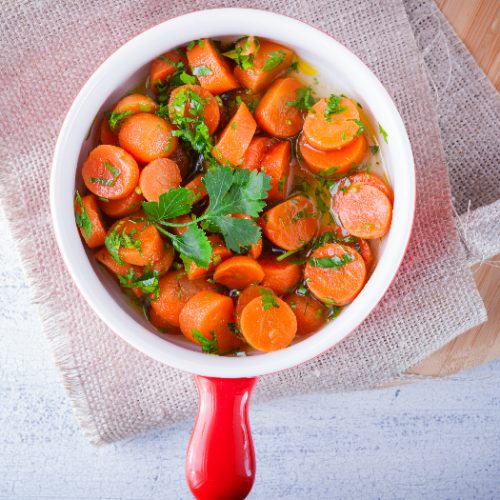 A Simple Glazed Carrot Recipe
Perfectly tender and glazed carrots slow-cooked in a mixture of brown sugar/honey/maple syrup and butter, topped with a sprinkling of your favorite herbs.
Print
Pin
Rate
Ingredients
1.5

lbs

carrots peeled and cut into 1/2 inch thick slices

2

tbsp

honey

1/4

cup

butter

1

tbsp

chopped parsley

1/4

tsp

salt
Instructions
To make glazed carrots, peel & cut carrots in medium coin-like sizes. Place them in a large pan. Add 1.5 cups of water & bring them to a simmer.

Allow them to cook for not less than 10 minutes or until you feel the carrots are tender. At this point, drain off any excess water.

Once that is done, add the butter, honey, and salt to the pan. Properly stir the carrots along with the honey and salt mixture. Continue to do so until all the carrots are properly coated.

Now let the carrots cook for an additional 4-5 minutes, occasionally stirring it. Stop once the sauce has formed. Lastly, sprinkle parsley or any other herb of your choice over it and serve.
Notes
Cut carrots remain fresh for up to 3 days if they are kept in the refrigerator.
Honey is a healthier option but you can use maple syrup or brown sugar in its place if you want.
Ensure that your carrots are cut into uniformly sized pieces so that they get cooked evenly.
The addition of parsley or any other herbs is an optional step. Herbs enhance the taste. You can entirely avoid this step if you want.

You can also use some rainbow-colored carrots for the holidays. These carrots are available in shades of yellow, red, purple and white. They are becoming more and more popular and are available in most grocery stores. Rainbow-colored glazed carrots not only look amazing but also taste good. There is a slight change in the taste and texture of these carrots from the usual ones, which you can understand only after cooking or roasting them.
Connect With Us
If you have tried this recipe, we would love your feedback in the comments section below. And while we can't taste it, we would love to see how it turned out! You can connect with us on Facebook or Instagram and tag your picture with #organicfactsrecipes. [2] [3]
Do you wish to share your winning recipes with us? Please click here and fill in the details to get started.