20 years ago, Matt Lucas asked a baked potato for life advice on the show Shooting Stars. Here's what the spud said, "Do be early, don't be late, always eat what's on your plate." Intelligent potato, isn't it?
Whether you like the advice or not, we are sure that a potato coming out of your oven is something you will love. For it is warm, comforting, and delicious. The best part is that you do not need a lot on your grocery list to make a baked potato. So let's see how to bake a potato to perfection and top it creatively.
How to Make Baked Potato?
There are many ways you can make a baked potato. You can use an oven, a microwave, an air fryer, an instant pot, or a grill to make it.
Baked Potato in Oven
An oven ding is a beautiful sound, especially when you are preparing a pie or a potato. Although baking a potato in the oven can seem time-consuming compared to a microwave, it is very simple. So follow this recipe and wait for the ding!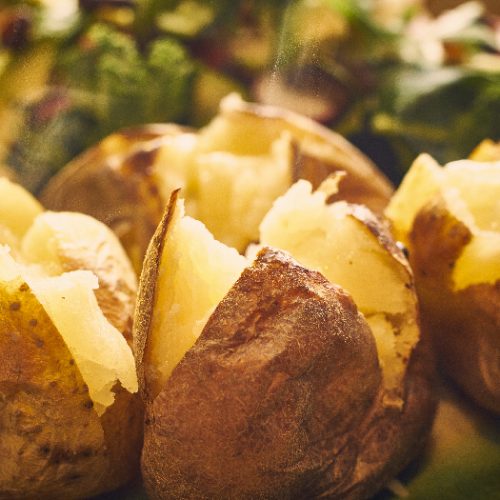 Oven-Baked Potato Recipe
A good baked potato is all about a crispy exterior and a pillowy interior, isn't it?
Print
Pin
Rate
[1]
[2]
Ingredients
2

potatoes

1/2

tbsp

salt

1/2

tbsp

ground black pepper

2

tbsp

olive oil
Instructions
Set the oven to 425°F and keep a rack in the middle of the oven.

While the oven is getting ready, prepare the potatoes. Wash them thoroughly under running water and pat dry.

Once done, prick the potatoes on all sides with a fork. The holes allow the steam to escape.

Coat the potatoes with olive oil. You can use your hands or a pastry brush.

Once the potatoes are covered in oil, sprinkle salt and pepper on them.

Keep the potatoes on a baking sheet and bake them for 50 minutes. You want the potatoes to cook from all the sides so flip them every 20 minutes.

After 50 minutes, remove the baking sheet and carefully place it on the counter. Use oven mitts so that you do not harm yourself.

Now, pierce one of the potatoes with a fork to see if they are done. If the potato skin feels dry and the insides are soft, your potato is perfectly baked!

Now, cut open the potatoes and give the ends a slight squeeze. This will loosen up the fluff inside the potato skin.

Voila! creamy, tasty, and tender baked potatoes are ready for you!
Microwave-Baked Potato
After cleaning, drying, and piercing the potatoes, coat them with oil and spices. Microwave the potatoes for 5 minutes. You can keep them in a microwave-safe dish or a pan. Once the potatoes are ready, wait for five minutes and cut them open from the middle. Squeeze them from the edges to loosen up the insides.
Instant Pot-Baked Potato
Pour one cup of cold water into your instant pot and place the metal trivet in it. Now put the pierced potatoes in the pot and close the lid. You want to ensure that the valve on top of the lid is set on sealing. Now, set the pot on manual mode and select to cook on high temperature for 12 minutes. Once that is over, wait for 10 minutes for the pot to cool down a bit. After that, use a glove or a towel to change the setting of the valve to venting so that the steam gets released. Now, carefully open the pot. Stick a knife in one of the potatoes to check if they are done. The skin of these potatoes will not be as crispier as oven-baked. If you want that, coat the potatoes with cooking oil and spices. Then, bake them for 10 mins in the oven at 425°F.
Air Fryer Baked Potato
Preheat the air fryer to 400°F. You need not pierce or make any openings in the potatoes while cooking them in an air fryer. Brush the potatoes with olive oil, salt, and pepper. Put them in the air fryer basket and place it in the air fryer. Now, let them cook for about 30-40 minutes. You can keep them for a few more minutes if they are not cooked.
Baked Potato on the Grill
To give your baked potatoes a barbecue effect, grilling them is a great idea. Preheat your grill to 400°F. Meanwhile, prepare the potatoes by cleaning and coat them with spices. Cover each potato with two layers of foil to prevent any flare-ups or bare spots. Puncture the potatoes a few times from all the sides. Grill them for 30-40 minutes. Keep turning the potatoes every 15 minutes to make sure they are cooked from all the sides.
What Makes a Good Baked Potato?
Do you wonder how restaurants manage to make flawless baked potatoes? Well, here are a few things that set their baked potatoes apart from others.
Starchy potatoes: Russet, Yukon, and Idaho potatoes are high in starch. The starch levels help bring out an even color while cooking and also give you a fluffier texture. They can be mashed, baked or deep-fried.
Size matters: Select potatoes that are of the same size. This will ensure that all your potatoes are baked evenly at the same time. If you combine different sizes of potatoes, they may end up being overcooked or undercooked.
Drying the potato: Clean the potatoes rigorously and make sure you dry them well. If there is excess moisture, it may seep into the potatoes during baking and lead to a soggy exterior.
Oil: You can use any vegetable or cooking oil for baking. Alternatively, you can use butter as well.
Foil is optional: If you like baked potatoes with a crispy skin, opt-out of wrapping them. Covering your potatoes with a foil can lock in the moisture and make the skin soggy. Use the foil only if you are grilling the potatoes.
Wire rack: To ensure that the potatoes are cooked from all sides, place a wire rack on the baking sheet or the pan. This will help the hot air reach the potatoes from all directions and bake them well.
The optimum temperature: The temperature of a baked potato should hit a spot between 205°F and 212°F. This means that your potatoes are perfectly cooked. A lower temperature will give a dense texture, while a higher temperature will make a gooey mess.
Not waiting for too long: As soon as you remove the potatoes from the microwave, oven, or any other appliance, cut them open in the next 5 minutes. Creating the vent will ensure that all the excess steam is out. Also, the potatoes will cool down enough for you to start eating them.
Topping Ideas for Baked Potatoes
Think of your baked potato as an edible plate, which you can top creatively. You can combine any spice, condiment, cheese, sauce, vegetable, or legume, and come up with your own, special topping. Here are a few ways you can do it:
Feta, olives, and tomatoes: Add some feta cheese with chopped olives and thinly sliced sun-dried tomatoes in a bowl. Now add freshly chopped parsley and oregano to the bowl and mix well. After you cut the potatoes, top them with this feta mixture and serve!
Pizza toppings: Stuff your baked potatoes with marinara sauce, Italian sausage, and mozzarella cheese. Set them under the broiler in your oven for a minute and enjoy two of your favorite foods together!
Bacon: Combine some butter, chopped onions, mayonnaise, and crumbled, cooked bacon in a bowl. Now top your baked potatoes with this mixture and sprinkle some shredded cheddar cheese on it.
Cream, salsa, and jalapenos: This is an easy and quick way to upgrade your baked potatoes. Add sour cream, sliced jalapenos, and salsa on baked potatoes and enjoy!
For making your potatoes healthier, you can use low-fat yogurt with scallions and salsa. You can also opt for vegetables like steamed broccoli, julienned carrots, and poached eggs.
Avoid using cold toppings. Nothing ruins a good, hot baked potato like a cold topping. When you start baking the potato, remove sour cream, cheese, veggies, etc, from the refrigerator. They will come to room temperature till the potatoes are ready.
Nutrition in a Baked Potato
A medium baked potato (173 g) without salt contains approximately 161 calories. It also contains 36.6 g of carbohydrates, 4.32 g of protein, and 3.81 g of fiber. Along with that, a baked potato is a good source of vitamin C and B6, niacin, and pantothenic acid. It also contains manganese and phosphorus. [3]
Baked Potatoes Around the World
Baked potatoes are relished by many people around the world.
In North America, stuffed baked potatoes are served as a side dish to steak dinners.
In the United Kingdom, baked potatoes are known as jacket potatoes, and they are served as fast/street food.
The French like their baked potatoes with a meat dish.
The Turkish like having their baked potatoes with purée of unsalted butter and kasseri cheese. The cafes in Istanbul are known for their baked potatoes stuffed with mayonnaise, pickles, carrots, Russian salad, and many other interesting things.
Do you have your own special way to bake a potato? Share the recipe with us here.