Stuffed dates top the list for recipes with dates as they are the easiest way to jazz these sweet dried fruits into bite-size appetizers that can be served as part of an elegant cheese platter as well as be part of a kid's lunch box.
3 Best Stuffed Dates Recipes
Stuffed dates are sweet, sticky, and delicious. They are also good for you as they are rich in fiber and antioxidants. To know about their nutrient content, you can head over to 13 Proven Health Benefits Of Dates. While we generally use Medjool dates as they are the most commonly available type in supermarkets, you can use other varieties too. For more, you can read 9 Types Of Dates You Didn't Know About.
But for now, let's get straight to the recipe for stuffed dates. Here are three simple recipes that can please children and adults alike, and can be customized for a vegan diet too.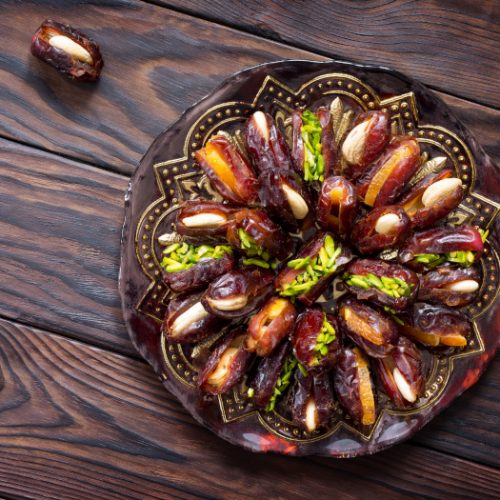 Easy Stuffed Dates Recipes, 3 Ways
You can make sweet or savory stuffed dates as a healthy snack or serve them as part of an elegant date night meal. These 3 recipes are easy and can be customized as per your filling preferences.
Print
Pin
Rate
[1]
[2]
Ingredients
Goat Cheese Stuffed Dates
4

oz

goat cheese

softened, room temperature

3

tbsp

almonds

chopped

smoked paprika

sea salt

pepper

honey

optional
Peanut Butter Stuffed Dates, A Vegan Delight
4

oz

peanut butter [3]

3

tbsp

dark chocolate chips

coconut flakes

optional
Dry Fruit Stuffed Dates
1/2

cup

dried fruits

assorted
Instructions
For stuffed dates of any kind, you will need to remove the pits from the dates. Make a lengthwise slit in each date. Remove the date pit and make a small pocket for your choice of stuffing. It's best to make an assembly line for stuffing dates for convenience.
Goat Cheese Stuffed Dates
Once all the dates are pitted, use a small spoon to add the softened goat cheese. Season with paprika, sea salt flakes, and freshly ground pepper for a sweet and savory treat. You can drizzle a little honey on it too if you want. Enjoy!
Peanut Butter Stuffed Dates, A Vegan Delight
In the pitted dates, add 2 teaspoons of peanut butter each. Make sure the peanut butter is at room temperature so that it is easy to stuff neatly.

Top with chocolate chips for a kid-friendly treat. You can also sprinkle coconut flakes or sesame seeds for a variation.
Dry Fruit Stuffed Dates
Stuff your favorite dried fruit into the pitted dates. The best choices are apricot slivers, walnuts, almonds, chopped pistachios, macadamia nuts, and pecans.

For an additional treat, you can dip the dates in melted chocolate and refrigerate. These make for pretty snacks to serve during the holidays.
You can enjoy these dates immediately or store them in an airtight container in the fridge.
Other Filling Ideas
Dates have a lovely chewy texture and a sweet taste that can complement different flavors. For savory treats, you can fill the pitted dates with any nut butter of your choice. Almond butter, cashew butter, and coconut butter are wonderful options. Sunflower butter may work well for people with nut allergies.
If you don't have goat cheese on hand, you can even try filling it with cream cheese. For a fancy version, try sweetening mascarpone cheese or ricotta cheese with honey and using it as a filling. Brie cheese also works well. For a different kind of crunch, add a small sliver of any hard cheese with walnut or pecans as a stuffing.
While chocolate chips work well for children, you can also experiment topping the stuffed dates with rainbow sprinkles. Toasted coconut flakes also give a wonderful nutty sweet flavor. For a healthy twist, you can use pomegranate seeds.
As part of a Middle-east themed meal, you can also serve stuff dates topped with organic rose petals and chopped pistachios. Also, you can try rolling the dates in cocoa powder or even Turkish coffee powder.
When to Serve Stuffed Dates?
Honestly, you don't need a reason to make stuffed dates. They are a delicious snack and get over before you know it! If you are looking for ideas on when to serve stuffed dates, here are some occasions that deserve this sweet treat.
They make for a great kid-friendly snack. The peanut butter-chocolate chip combination is best-loved by children. For kids with a nut allergy, you can stuff the dates with pretzel nuggets and dip them in melted chocolate.
Serve as an appetizer for your next book club meeting. Bacon-wrapped cream cheese stuffed dates are a good choice for Superbowl parties.
Enjoy it as part of a Mediterranean-themed meal with chickpea fritters using our Classic Falafels Recipe.
If you are watching your weight, peanut butter stuffed dates are good to have on hand for a healthy snack when you get a sweet craving.
They make for an interesting addition to a wine and cheese platter. Try pairing a Pinot Noir with goat cheese-filled dates.
More Recipes With Dates
Dates are so versatile and they can be used in many creative ways. Here are our favorite recipes that you should try: