If you are a doting chaat (savory street food in India) lover, how can you not love tamarind chutney? This dish is a go-to condiment when it comes to tasty snacks such as samosas or corn fritters. Besides, the significant part is that you will find tamarind chutneys at every Indian feast where there are fried snacks or fast-food items. Moreover, as a popular North-Indian accompaniment, it is becoming a global sensation at buffets, functions, and the works! Its zingy flavor and apt after taste leaves a foodie craving for more of it. It is best served with Indian chaat food such as pani puri or sev puri (flat crispy pancakes loaded with diced potatoes). For your next get-together or potluck, we have got you covered with our easy recipe given below.
What is Tamarind Chutney?
Tamarind chutney is tangy, sweet, pulpy, and delicious, and goes well with almost every evening snack. A well-prepared chutney elevates the flavor and taste of the chaats. The spicy combination of jaggery, tamarind, and black salt gives a zesty punch to your savories. [1]
How to Make Tamarind Chutney?
Making homemade tamarind pulp is easy. It would be best to have the right ingredients and correct judgment of balancing the flavors to give it a zing. All you need is some tamarind, jaggery, chili powder, and salt. To make a vegan or low-fat version, you can also use raisins or dates to make it sweeter. We have our step-by-step recipe to make this chutney at home below.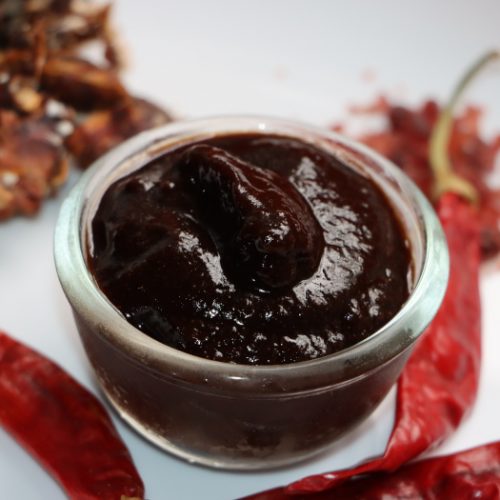 Homemade Zesty Tamarind Chutney Recipe
Your snacks are incomplete without this flavorful chutney. Use it as a dip or sauce and we bet you will ask for more!
Print
Pin
Rate
Ingredients
1

cup

tamarind

seedless

1

tsp

red chili powder

1

cup

jaggery

cut into small pieces

1

tsp

cumin powder

roasted

1

ginger

grated

salt

to taste

1

tsp

coarse fennel powder

1

tsp

black salt

optional
Instructions
Soak the seedless tamarind in three cups of warm water for 30 minutes.

Mash the soaked tamarind with your hands and strain through a strainer.

Empty the pulp into a saucepan and add the crushed pieces of jaggery. Let the mixture boil and cook on low flame.

Add the spices and mix well. Taste for sweetness and add jaggery according to the sweetness preference.

Once the mixture achieves thick consistency, remove from the stove, and let it cool.

Once cool, transfer the chutney into airtight containers and store in the fridge for up to three months.
Notes
You can substitute jaggery with dates.
To make it more flavorful, temper the dip with chopped green chilies and garlic.
Dilute the chutney accordingly before serving to increase its shelf life.
Add dry ginger powder instead of grated ginger for a different taste.
How to Use Tamarind Chutney?
With a plethora of dishes at your disposal, this dip is a perfect add-on as an accompaniment. Furthermore, in Indian cuisine, it is a street food lover's favorite sauce. Pair it with fries, wings, or cheese toasts, and trust us, you will love it. So, we have curated a few international dishes to pair tamarind chutney with: