Who would've thought that yams would be the stars of the ice cream world in 2020? The purple swirls of ube ice cream created a splash when it appeared on Instagram. The vibrant colors jumped out of the screen with the purple more eye-capturing than the ice-cream itself. Using yams for dessert may seem unusual, but trust us when we say this, it rocks!
What is Ube Ice Cream?
As the name suggests, ube ice cream comes from ube, a species of yam. It has a distinctly purple color, which gives this ice cream its trademark hue. It is part of a recent trend for purple food and unlike other variants, the vibrant color is completely natural in this ice cream. It is also popular for its distinct flavor. While it may seem a new-fangled Millenium craze, ube desserts have long been part of the Filipino culture. Interestingly, the history of the ube ice cream is also proof of how globalization can come to a full circle. While it may have come to the US from the Philippines, the technique and tradition of ice cream making itself came from the American occupation of the island.
But here's the million-dollar question, how does it taste? The magic of any ice cream lies in its light, melt-in-your-mouth, sweet, creaminess. It's one-part nostalgia and three-parts pure pleasure. Can any starchy yam occupy the same space? We are happy to report that indeed, it does. What makes ube so suitable for desserts is its sweet and nutty flavor. It has a hint of vanilla that seems perfect when swirled in a cone. Instead of a gluggy, starchy blob, you will come away surprised at its beautifully whipped texture. Some have described the flavor as a cross between coconut and pistachio with a hint of vanilla.
How to Make Ube Ice Cream?
Ube ice cream is made with grated and steamed ube. It is best to use the cooked tuber because the freshly grated version contains too much water. For our recipe we have used ube halaya, which is available on online stores like Amazon. You can also make it yourself by using ube powder or steamed, mashed ube. This is a no-churn ice cream recipe. The creamy texture is all thanks to the inclusion of condensed milk and heavy cream. The sugar stops the ice cream from freezing and the heavy whipped cream gives it a light texture.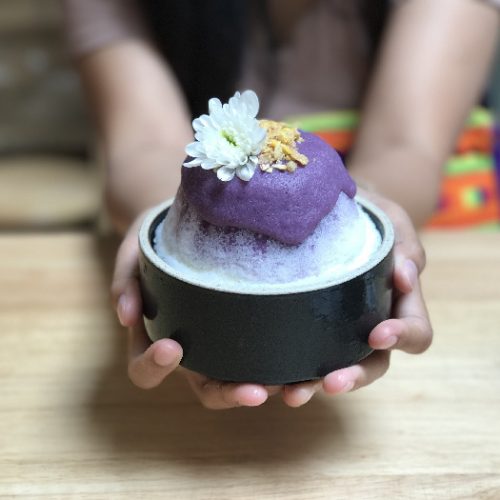 No-Churn Ube Ice Cream Recipe
This easy-peasy ice cream can be made in a matter of minutes. We have used ube extract for the deep purple color. Omit if you don't have it.
Print
Pin
Rate
Instructions
In a large bowl, add the ube extract (if using), condensed milk, and evaporated milk to the ube halaya and mix together thoroughly. You should have a smooth deep purple mix.

In a stand mixer, whip the heavy cream till you have soft peaks. Add the ube mix and whip again till you get stiff peaks.

Pour the whipped mixture into a freezer-safe container. Cover and freeze for at least 7 hours or overnight.

Your ube ice cream is ready. Scoop out and enjoy!
A note about the ingredients:
We have used ube extract for its beautiful deep purple color. It also adds to the ice cream's flavor. You can get it through online stores or buy from Filipino supermarkets. Please omit if you cannot find it.
You can now get ube halaya online or in Filipino supermarkets.
If you cannot get ube halaya, look for powdered purple yam. It is made out of dehydrated yams. To use, you need to make the jam from this powder. Just mix about 115gm of the powder with 1/2 cup water, 3/4 cup evaporated milk, and 1/2 cup condensed milk. Cook these over slow fire till you get jam-like consistency. Add a few drops of vanilla extract as it finishes cooking.
You can use the leftover ube halaya in cakes, pastries, or as a spread. You can also add it to your oatmeal to give your breakfast a purple kick!
Where to Buy Ube Ice Cream?
Ube ice cream could be found at Filipino restaurants and some Asain supermarkets. But the ice cream first caught everybody's attention when it made its debut at Trader Joe's in 2019. Although it was offered for a limited period, it created a huge splash. You will have to check with your local store to see if they are still stocking it. Since then, some other specialty ice cream stores have also stocked it, such as Soft Serve in New York. If you cannot find it at any ice cream parlor or store near you, head back to Filipino restaurants or stores.