If you have enjoyed a Buddha bowl with beautiful, spicy radishes that surprisingly look like baby watermelons, then you have probably bitten into slices of watermelon radish. This bright and cheery radish has found its way into citrus salads and elegant charcuterie platters, offering a pop of color and tons of flavor.
What Is Watermelon Radish?
Watermelon radish is an heirloom variety of the Chinese daikon radish with a creamy white or light green skin and a magenta pink interior. While it has the slight spice of the daikon radish, it has a juicy, crisp flavor. This has makes it a favorite in salad bowls and sandwiches, especially the Vietnamese Banh mi sandwich. [1]
In China, watermelon radishes are called shinrimei, which translates to 'in one's heart beautiful' for its beautiful pinkish-red color. Local names also include red daikon or red meat radishes. Like other radishes, they are part of the Brassica (mustard) family. They usually are the size of a softball and have green leaves on top. These peppery radishes are usually eaten raw or pickled. [2] [3]
Nutrition Facts & Health Benefits
According to the USDA, one cup of sliced raw oriental radish (116 grams) is only 20.9 calories. Radishes also have a rich nutrient profile as they are high in calcium, potassium, folate, and vitamin C. They are a good source of fiber. [4] [5]
Eating watermelon radishes can benefit overall health in many ways. Cruciferous vegetables like radishes contain active bio compounds like glucosinolates, isothiocyanate, and phenols. These compounds have been linked to reducing the risk of several chronic diseases. Regularly consuming radishes can also have a preventive effect on cardiovascular diseases through blood pressure reduction, anti-inflammation effects, and positive links to cholesterol management. [6] [7] [8]
Watermelon Radish Recipes
There are so many ways you can use watermelon radishes but here is our most favorite salad recipe.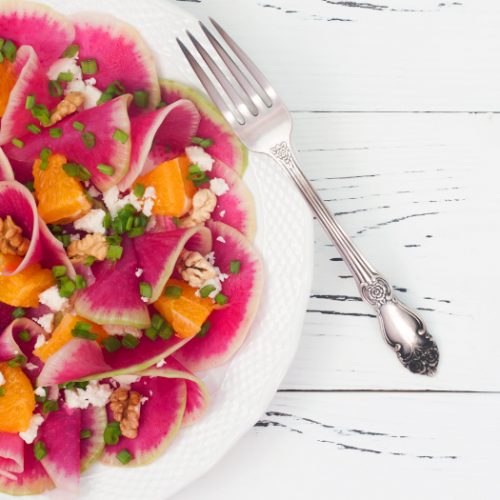 Watermelon Radish, Orange, & Goat Cheese Salad Recipe
A stunning salad that can take pride of place on any table.
Print
Pin
Rate
Ingredients
3

watermelon radishes

3

oranges

3

tbsp

goat cheese

3

tbsp

walnuts

toasted and chopped

3

tbsp

balsamic vinegar

2

tbsp

olive oil

extra virgin

salt & pepper

to taste

1

tbsp

chives

minced
Instructions
To make the salad, you first need to prep the watermelon radishes and oranges.

You can choose to cut the radishes into moon half-slices, circular slices, or into carpaccio-style slivers using a mandoline. You do not need to peel the radishes.

Cut a small piece of the orange rind at the bottom of each orange and squeeze the juice on the radishes. Use a sharp knife to remove the peel completely. Now, cut the orange membranes to release the fruit flesh and chop them into bite-size pieces.

In a salad plate, assemble the watermelon radishes, then the orange segments, and finally sprinkle the goat cheese and walnuts.

Now, drizzle the balsamic vinegar and olive oil. Season with salt and pepper and let it rest for 5 minutes. Garnish with minced chives. Your salad is ready to be enjoyed!
Notes
You can also use clementines or grapefruits instead of the oranges.
Other Ways To Use Watermelon Radish
You can use these beautiful radishes in Buddha bowls. Their peppery taste pairs beautifully with creamy avocados and boiled chickpeas. You can use also use them in the following ways.
How To Select, Buy, & Store?
When buying watermelon radishes, make sure they are firm to touch and a little heavy for their size. Also, the skin should not have any deep cracks. The skin is edible and need not be removed. To clean the radishes, scrub them lightly to remove any dirt or grit.
If you want radishes that have a brilliant pink color, look for the ones that have pink taproots. If you buy them from a farmers market with their green tops, you can use the leaves too. Simply clean them and wilt them in a pan before adding them to salads as they are a little tough. You can also add them to flavor soups and stews. [9]
This variety of radishes has a good shelf life. It can be stored for a couple of weeks in the crisper section of the refrigerator. You can also store cut radishes for several days in a plastic container.
Enjoy these elegant beauties in your salads, with sushi, or simply roasted!