Using buckwheat flour while baking adds a robust, nutty flavor to cakes, muffins, and bread. The flour has a slightly bitter, hoppy taste that is complemented by fruits like berries or apples, creme fraiche, sour cream, caviar, or salty meats like ham. This nutritious, gluten-free flour has caught the fancy of bakers and food bloggers across the world. Let's find out more.
What is Buckwheat Flour?
Buckwheat flour is made by grinding the pyramid-shaped kernels of buckwheat. Despite its name, buckwheat is not related to wheat and is naturally gluten-free. The flour is also grain-free because buckwheat is a pseudocereal, like quinoa and amaranth. Buckwheat, also called beech wheat, is actually a fruit that is closely related to rhubarb and sorrel. [1]
Nutrition Facts

---

Buckwheat flour, whole-groat

Serving Size :
Nutrient
Value
Water [g]
11.15
Energy
335
Energy [kJ]
1402
Protein [g]
12.62
Total lipid (fat) [g]
3.1
Ash [g]
2.54
Carbohydrate, by difference [g]
70.59
Fiber, total dietary [g]
10
Sugars, total including NLEA [g]
2.6
Sucrose [g]
1.7
Calcium, Ca [mg]
41
Iron, Fe [mg]
4.06
Magnesium, Mg [mg]
251
Phosphorus, P [mg]
337
Potassium, K [mg]
577
Sodium, Na [mg]
11
Zinc, Zn [mg]
3.12
Copper, Cu [mg]
0.52
Manganese, Mn [mg]
2.03
Selenium, Se [µg]
5.7
Thiamin [mg]
0.42
Riboflavin [mg]
0.19
Niacin [mg]
6.15
Pantothenic acid [mg]
0.44
Vitamin B-6 [mg]
0.58
Folate, total [µg]
54
Folate, food [µg]
54
Folate, DFE [µg]
54
Choline, total [mg]
54.2
Lutein + zeaxanthin [µg]
220
Vitamin E (alpha-tocopherol) [mg]
0.32
Tocopherol, gamma [mg]
7.14
Tocopherol, delta [mg]
0.45
Vitamin K (phylloquinone) [µg]
7
Fatty acids, total saturated [g]
0.68
8:0 [g]
0.03
10:0 [g]
0.02
12:0 [g]
0.01
14:0 [g]
0.02
16:0 [g]
0.41
18:0 [g]
0.04
Fatty acids, total monounsaturated [g]
0.95
16:1 [g]
0.02
18:1 [g]
0.9
22:1 [g]
0.01
Fatty acids, total polyunsaturated [g]
0.95
18:2 [g]
0.88
18:3 [g]
0.07
Tryptophan [g]
0.18
Threonine [g]
0.48
Isoleucine [g]
0.47
Leucine [g]
0.79
Lysine [g]
0.64
Methionine [g]
0.16
Cystine [g]
0.22
Phenylalanine [g]
0.5
Tyrosine [g]
0.23
Valine [g]
0.65
Arginine [g]
0.94
Histidine [g]
0.29
Alanine [g]
0.71
Aspartic acid [g]
1.08
Glutamic acid [g]
1.95
Glycine [g]
0.98
Proline [g]
0.48
Serine [g]
0.65
Sources include : USDA [2]
Buckwheat flour is available at health food stores, specialty stores, or online. The flour can be light or dark. Light buckwheat flour, also called fancy flour, is made by grinding hulled kernels. On the other hand, dark buckwheat flour, also called the supreme variety, is made from whole buckwheat groats with the hulls. This flour has dark specs and is higher in fiber than the light variety. You can use it to make bread, pancakes, crepes, Russian pancakes called blinis, noodles, and a variety of baked goods.
Nutrition
According to the USDA Food Central Database, 1 cup of whole-groat buckwheat flour has 402 calories. It has 15 grams of protein and 12 grams of dietary fiber. It is rich in iron, potassium, phosphorus, and magnesium. A 2016 study published in the Current Genomics journal stated that buckwheat flour is being increasingly used to make healthy foods due to the rich content of phenolic compounds like rutin and quercetin. [3] [4] [5]
How To Use Buckwheat Flour?
Traditionally, buckwheat flour is used to make soba noodles in Japan and tiny pancakes in Russia called blinis. In France, the flour is used to make galettes, a crepe that is topped with a cooked egg and ham.
If you have just started using this gluten-free flour, you can begin by making relatively easy dishes like crepes or pancakes. If you are a baker, you can make gluten-free quick yeast bread with this flour. Alternatively, in wheat bread, you can replace half the amount of wheat flour with buckwheat flour. If you want to make fiber-rich gluten-free baked goods, you can also try mixing it with brown rice flour.
Buckwheat Crepes Recipe
You can make these gluten-free crepes for breakfast in place of your usual pancakes. Buckwheat crepes can be sweet or savory, depending on your preference. Let's look at a simple buckwheat crepe recipe, served with cream and honey.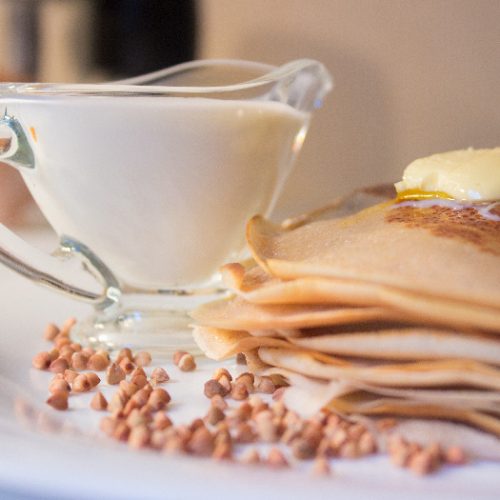 Buckwheat Crepes Recipe: Gluten-free
Earthy crepes which pair superbly with cream and honey!
Print
Pin
Rate
[6]
[7]
Ingredients
1

cup

buckwheat flour

2

large

eggs

2

tbsp

butter

softened

1/3

cup

water

salt

to taste
Instructions
Add the buckwheat flour, eggs, milk, salt, and 1 tbsp of butter to a blender. On a low setting, blend for 30 seconds. You can also whisk it in a large bowl.

Now add the water and mix again. Keep the batter aside for a couple of hours, or even better, overnight.

When you are ready to make the crepes, prep a non-stick pan or crepe with melted butter and warm the pan. Pour the batter to make a thin crepe and swirl the pan so that the batter covers all sides. If you are using an electric crepe maker, follow the instructions and swirl it.

Cook for two minutes, or until the surface has dried. You may see that the edges of the crepe begin to curl up slightly. Use a thin spatula to lift the crepe from the pan.

Transfer the crepes to a plate and cover with a towel to keep them warm. You can also keep them in the oven if you are making a big stack of crepes.

Traditionally, crepes are served with cream and butter. You can also sprinkle icing sugar and berries on it. Enjoy!
To make savory buckwheat crepes, you can stuff it with creamed spinach, smoked salmon and cream cheese, or parma ham. You can also add spinach puree or tomato puree to the batter to make flavored crepes.
Connect With Us
If you have tried this recipe, we would love your feedback in the comments section below. And while we can't taste it, we would love to see how it turned out! You can connect with us on Facebook or Instagram and tag your picture with #organicfactsrecipes. [8] [9]
Do you wish to share your winning recipes with us? Please click here and fill in the details to get started.