Celery salt is one of those secret ingredients that add a depth of flavor to dishes and cocktails and could well be one of the go-to spices in a master chef's pantry. This humble seasoning adds the zing to a well-made Bloody Mary cocktail, gives the distinct flavor to Old Bay Seasoning used to flavor shrimp and crabs, and is speculated to be one of the key ingredients in KFC's secret spice mix.
What is Celery Salt?
Celery salt is a seasoning mix of salt and ground seeds of either celery or its distant cousin, lovage. It is more likely to be lovage seeds, which have a celery-like peppery taste, with undertones of anise and parsley. Celery salt can be termed a seasoning salt and is popularly used in savory dishes. It is used to flavor coleslaw, stews, soups, salad dressings, and the famous Chicago-style hot dogs. [1]
How To Make Celery Salt?
Store-bought celery salt is usually expensive and contains preservatives and anticaking agents like silicon dioxide or calcium silicate. If you want to avoid additives or just want to make your own seasoned salt, here is a simple recipe.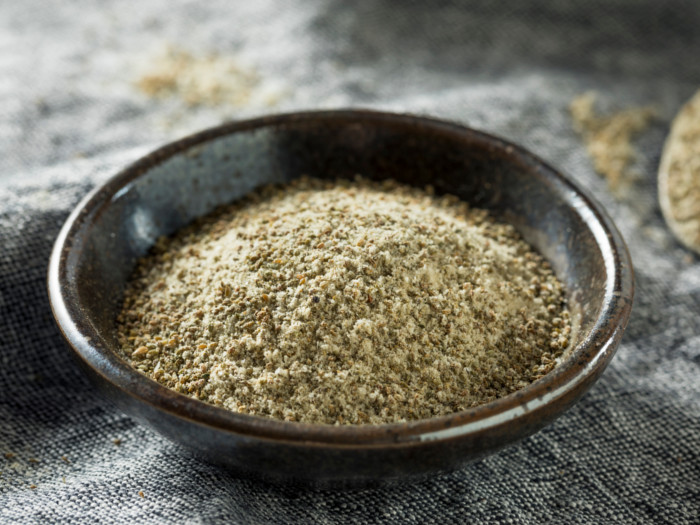 Make Your Own Celery Salt: Easy Recipe
An easy, inexpensive seasoned salt that can up the game of simple dishes like coleslaw or fried chicken.
Print
Pin
Rate
[2]
[3]
Ingredients
3

tbsp

celery seeds

5

tbsp

salt

1/2

tsp

white rice

uncooked
Instructions
To make celery salt, you will need a grinder. First, grind the celery seeds as finely as possible. It should be a fine powder.

Now, add the salt and grind for 10-15 seconds to mix them well.

Take an empty 4-oz spice bottle and add the uncooked rice first. This will help to remove the moisture from the spice mix and keep it from clumping.

Add the spice powder, cover, and store in a dry, dark place.
Notes
If stored properly with a tight lid, the seasoned salt mix can last for more than a year. However, it loses its flavor over time.
If you do not have celery salt or celery seeds on hand, you can head over to 4 Best Celery Salt Substitutes for helpful tips.
Ways To Use Celery Salt
The seasoned salt mix can add a flavoring to anything from popcorn, french fries, cooked vegetables, as well as soups and stews. Let us look at the most popular ways to use this seasoned salt mix.
Is Celery Salt Bad For You?
If you are watching your salt intake, then you may want to avoid sprinkling it liberally on dishes. However, on the flip side, it is one of the best ways to help you cut down in salt as the ground celery seeds add a burst of salty flavor without actually needing plain salt. To completely avoid salt and still flavor your dishes with the zing of celery salt, you can use slightly roasted celery seeds instead. You can also try flavoring soups with celery leaves to get a slightly milder flavor of the spice mix.