A combination of garlic and honey is one of the classic herbal remedies that has been used for many years to cure colds and coughs as well as to lose weight. Both have immune-boosting properties and natural compounds that have scientifically been proven to have positive effects on the body.
Garlic And Honey
Garlic contains allicin, an organosulphur compound that helps boost immunity levels. Many preclinical studies suggest that organosulfur compounds from garlic could potentially have antioxidant, anti-inflammatory, antimicrobial, and cardioprotective activities. Honey too contains bio compounds that have antimicrobial and antibacterial properties. When combined, garlic and honey are considered a powerful home remedy to boost the immune system and improve overall health. While crushing garlic with honey is the fastest way of having it, fermented garlic honey is known to have tremendous health benefits. [1] [2] [3] [4]
Fermented Garlic And Honey Recipe
The most common way to have garlic and honey as a herbal remedy is fermented garlic honey. Here is the step-by-step process to make it.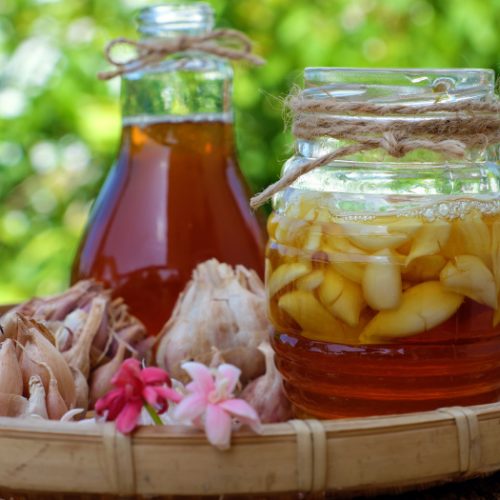 Fermented Garlic Honey Recipe
This simple herbal remedy helps boost immunity levels.
Print
Pin
Rate
[5]
[6]
Instructions
To make fermented garlic honey, you will need a clean 1-quart heatproof glass jar. Use one with a wide mouth to have easier access to the garlic cloves.

The garlic cloves can be prepped in the manner you prefer. You can choose to peel it fully or keep the thin papery layer on. Also, you can either use the whole garlic clove, or crush it lightly, or mince it.

Place the garlic in the jar. Pour the honey on the garlic. You can stir it to make sure all the garlic cloves are coated with honey. Close the lid of the jar and let it sit for 3 days.

Remove the lid of the jar and let the gases out. You may see tiny bubbles at this stage. Let it sit for a week. You should open the lid every other day and stir it a bit.

Fermented garlic honey is ready to use. You can store it at room temperature for a month.
Notes
If the honey solidifies, you can bring it to room temperature by warming it in the microwave or in a saucepan over low heat. You can use the garlic-flavored honey on grilled chicken or fish, or as a dip for spicy fried chicken.
How To Use Garlic And Honey?
This fermented garlic honey tonic can be had at any time of the day. A teaspoon of honey with a clove of fermented garlic is a good dose to have in a day. Some people suggest having it on an empty stomach, first thing in the morning. But there is no scientific evidence to prove that this is the most effective time. [8]
If you do not want to make fermented garlic, there are other ways to include garlic cloves and honey in your daily diet. Let us look at some of the options.
You can make a marinade of garlic cloves and honey. Use it as a glaze over grilled chicken, pork, or fish. One of our favorite recipes is this delicious Honey Butter Fried Chicken.
Instead of regular honey, use garlic-flavored honey in this recipe for Baked Ham With A Delicious Honey Glaze.
Use minced garlic and a teaspoon of honey in salad dressings like this Mustard Keto Salad Dressing. Drizzle over salad greens and grilled chicken for a light but flavorful summer lunch.
Make a simple slow cooker honey garlic chicken with veggies. Place bone-in chicken and vegetables like potatoes, carrots, and onions in the cooker. In a small bowl, mix minced garlic, honey, soy sauce, tomato paste, and dried oregano. Pour over the chicken pieces and vegetables and cook in the slow cooker for 3 hours on HIGH or 5 hours on LOW. You can thicken the sauce with a cornflour slurry in the end. This makes for a delicious and healthy family dinner.
Garlic And Honey Benefits
Let us look at the most important benefits of garlic and honey.
Alternative Natural Antimicrobial Drug
A 2013 research report revealed that garlic in combination with tazma honey (honey produced in Ethiopia by stingless bees) had potent antimicrobial properties. Researchers found that the garlic honey blend was effective against Salmonella, Staphylococcus aureus, Lyesria moncytogenes, and Streptococcus pneumonia. The herbal tonic helped inhibit the growth of these bacteria that cause pathogenic bacterial infections. Another research study confirmed these results and also found that when the two are used together, they seem to prolong or improve the shelf life of each other. [9] [10]
May Reduce Risk of Heart Attack
Garlic, in different forms such as fresh, powdered, and aged, has long been associated as a powerful natural food that can help maintain heart health. Research in both animal and human studies show that garlic can help lower blood pressure and cholesterol levels, while also preventing blood clots. Similarly, honey is rich in phenolic compounds, which act as natural antioxidants and help improve cardiovascular health. [11] [12] [13]
Natural Cold & Flu Relief Remedy
Manuka honey has powerful antiviral properties, according to research. Allicin, the main ingredient in garlic, helps improve the disease-fighting response in white blood cells in the body, especially when they encounter viruses that cause the common cold and flu. Fermented garlic or aged garlic, in particular, helps reduce the severity of the symptoms of colds and flu. [14] [15] [16]
Other health benefits include:
However, there are not enough studies to verify these claims. Fermented garlic in honey has also been touted as a natural cure for erectile dysfunction, but only an animal model has shown a potential positive association. [19]
Side Effects
Generally, garlic in honey is had in small amounts as a herbal remedy and may not cause harmful side effects. You may experience having bad breath or perhaps, body odor. In excess, raw garlic can cause heartburn or an upset stomach. Both garlic and honey can cause allergic reactions in certain individuals. People with a pollen allergy need to be careful while consuming honey as it can cause wheezing, coughing, and skin reactions, among other symptoms. Also, honey does contain natural sugar and needs to be had in moderation. [20] [21] [22]
Garlic can also interact with certain drugs such as anticoagulants like warfarin. It may also decrease the efficacy of saquinavir, a drug used to treat HIV infection.