Some of the health benefits of lulo include its ability to improve the immune system, build strong bones, boost vision, regulate digestion, protect against certain cancers, increase circulation, detoxify the body, relieve stress, promote sleep, lower cholesterol, and even help avoid the development of diabetes.
What is Lulo?
Lulo is a citrus-like fruit that grows on a small shrub or tree. It is native to the northwest region of South America and has several names by which it is known. In Colombia, lulo is the accepted name, but in Panama and Ecuador (and parts of the United States), this delicious, tangy little fruit is called naranjilla. The scientific name of lulo is Solanum quitoense and the flavor is very distinctive and tart. Some people would compare it to a pineapple, or even a combination of lime and rhubarb. Different cultivars in different countries have slightly different tastes, as well as different concentrations of nutrients. The juice of lulo is a popular healthy drink, but the unusual green color of the juice may surprise some people.
Although the demand for lulo around the world is growing because of its unique, exotic flavor, unfortunately, it is a member of the nightshade family, which is notoriously fragile and is susceptible to bruising, discoloration, and insects/diseases. For this reason, mass cultivation is not really an option for it, so it remains a small-scale crop that has relatively low export levels.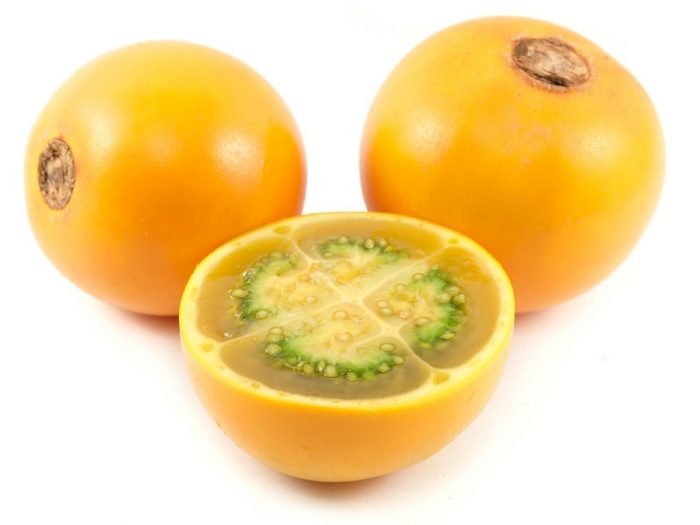 To eat, cut the fruit in half and scoop out the two, white fleshy halves. The fruit can be eaten raw, or it can be cooked. However, it is most popularly added to jams, jellies, pies, and other desserts, as well as in ice cream flavoring and as the main ingredient in certain fruit juices and wines. Since lulo is somewhat difficult to acquire, many people go through the trouble. It is packed with nutrients and organic compounds that make it a very healthy addition to your fruit intake.
Nutritional Value of Lulo
Lulo fruit has been found to have high levels of vitamin C, vitamin A, niacin, riboflavin, and thiamine, as well as calcium, iron, phosphorus, dietary fiber, and very low levels of fats and calories. It also possesses many antioxidant qualities, although the exact antioxidant compounds have not been sufficiently studied.
Health Benefits of Lulo
With a unique taste, it also provides a great range of health benefits to all. Let's discuss them in detail.
Boosts Immunity
Being high in vitamin C and vitamin A, lulo is a wonderful way to boost your immune system. Vitamin C works as a natural antioxidant to clear out free radicals from your system and also stimulates white blood cell production, which is the body's first line of defense against infectious diseases and other pathogens. Also, vitamin C is integral for the development of collagen, which supports connective tissue, blood vessels, and organs.
Aids Digestion
Pepsin is a type of fiber that is found in lulo and is found to be very beneficial for the digestive tract. All fibers help to promote digestion, and pepsin is one of the best varieties for the health of your gastrointestinal tract. It can help eliminate constipation, cramping, bloating, and more serious conditions like gastric ulcers. Fiber also helps to regulate the amount of glucose that is released into the bloodstream, making lulo beneficial for people suffering from diabetes, who need to monitor their blood sugar levels very closely.
Improves Vision
The carotenoids found in lulo, including vitamin A and beta-carotene, help to neutralize the free radicals that cause oxidative stress in certain ocular cells, including the macula lutea. This can reduce your chances of macular degeneration, cataracts, and other vision issues.
Reduces Cholesterol
The combination of dietary fiber, which can help to eliminate dangerous, "bad" cholesterol from the body, and the rich variety of other vitamins and minerals can significantly improve the functioning of the cardiovascular system and lower your chances of developing atherosclerosis, as well as lower your risk of heart attacks and strokes.
Increases Circulation
The significant levels of iron that are found in lulo mean that your red blood cell count will be increased, thereby boosting the circulation of your blood and increasing oxygenation to vital organ systems and cells. This can also improve the strength, growth rate, and texture of your hair by stimulating the follicle beds. Furthermore, improved cellular healing and regeneration can be achieved by boosting the amount of iron in your body.
Improves Bone Strength
Strong bones are important at all stages of life, so a fruit like lulo, which has a rich diversity of minerals, including calcium, phosphorous, and iron, can significantly improve the density of a bone tissue, thereby preventing conditions like osteoporosis and even arthritis as we age.
Detoxifies the Body
Lulo has often been used in traditional medicine as a diuretic substance, meaning that it increases urination. This can cleanse the kidney of excess toxins, relieve stress on the liver, and eliminate excess salts, water, and even fat from the body. People often turn to diuretic substances when they are looking to lose weight, or detoxify their body and blood of toxins.
Relieves Stress
Although research is ongoing in terms of the actual method of action for these health conditions, lulo has been connected with hormonal changes in the body that can improve mood, reduce stress, and even promote sleep for people suffering from insomnia and restless sleep disorders.
Prevents Cancer
The unique mix of vitamins and antioxidants in lulo mean that it can neutralize the free radicals in the body that mutate healthy cells into cancerous cells. Ongoing research at a variety of facilities around the world is studying the precise antioxidants and modes of action that give this tangy fruit this anti-carcinogenic ability.