There are many benefits of drinking barley tea because it can help improve circulation, treat skin conditions, prevent chronic disease, and settle the stomach. It also helps stimulate male fertility, prevent diabetes, fasten weight loss, cleanse the blood, and strengthen the immune system.
What is Barley Tea?
Barley tea is a staple beverage in many countries, primarily Korea, Japan, and China, where it is known as boricha, mugicha, and màichá, respectively. Consumed both cold and hot, roasted barley tea is a delicious, refreshing, nutty and aromatic drink that is slowly beginning to gain popularity.
Barley Tea Nutrition Facts
Its impressive range of health benefits, due to the high concentrations of vitamin A, C, antioxidants, amino acids, selenium, melatonin, and tryptophan. Also, the minimum caffeine content makes it an excellent choice for anyone who wants to cut back on calories and boost their overall health.
Watch Video: 7 Health Benefits Of Barley Tea
Health Benefits of Barley Tea
Health benefits of barley tea include:
Digestive Health
As a natural antacid, barley tea can help balance excess acidity in the gut and prevent acid reflux. Furthermore, barley and barley tea are rich in fiber, which can ease constipation and promote healthy bowel movements, thus reducing constipation, hemorrhoids, bloating, cramping, and stomach upset.
Antioxidant Capacity
There are a number of antioxidant compounds in this tea, as well as essential minerals like selenium, which act on the body to prevent oxidative stress and help you avoid chronic health diseases.
Immune System
The high levels of vitamin C present in barley tea can give your immune system a necessary boost by promoting the production of white blood cells, in addition to acting as an antioxidant and countering the negative effects of free radicals.
Circulation
Barley tea is stimulating in nature and can increase blood flow, particularly by acting as an anticoagulant. This can reduce your chances of developing blood clots, and also prevent atherosclerosis, heart attacks, stroke, and other cardiovascular complications.
Sleep Aid
The levels of tryptophan and melatonin found in barley tea make it an excellent sleep aid. If you are suffering from insomnia, restless night, or regularly interrupted sleep, these compounds can trigger neurotransmitter release in the brain and aid you in falling into undisturbed sleep, followed by feeling refreshed in the morning.
Fertility
Selenium isn't a mineral you often hear about, but it is critical to certain aspects of male fertility and can protect the health of the prostate. Barley is a good source of selenium, which, according to Dr. Zhigang Cui and Dr. Dezhong Liu's report published in the Medicine (Baltimore) Journal, could prevent prostate cancer. The report concluded an inverse relationship between serum selenium levels and prostate cancer risk.
Diabetes
Barley tea is extremely low in sugar, despite its natural sweetness, and also helps regulate blood sugar and insulin balance in the body. This is very good news for people suffering from diabetes, as well as those at high risk. Replacing sugary drinks such as soda with barley tea is a popular choice for people who have a notably lower occurrence of diabetes.
Weight Loss
Barley tea is also very low in calories but can make you feel full, owing to the rich supply of vitamins, minerals, and nutrients found in the tea. This can help people avoid snacking between meals and overeating, while still stimulating the metabolism so passive fat burning can occur more effectively.
Inflammation
The anti-inflammatory compounds found in barley tea are great for joint pain, arthritis, gout, oxidative stress, and other inflammation issues throughout the body. The antioxidants found in it are great for inflammatory conditions of all kinds, including those that affect neurodegenerative and chronic diseases.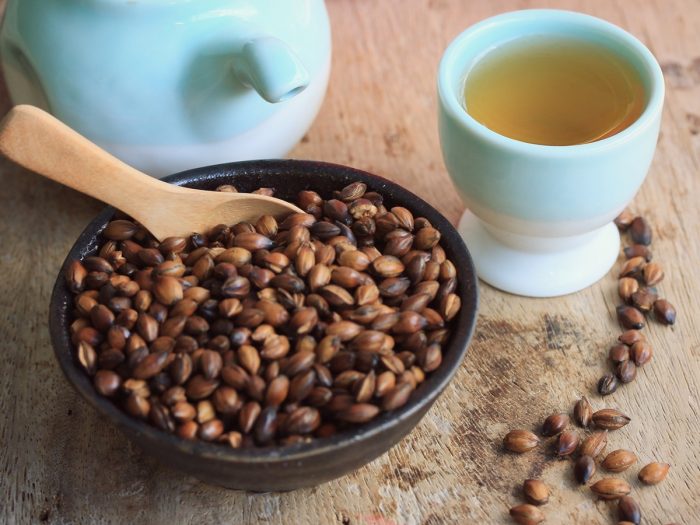 Pregnant Women
While most herbal teas are not suggested for pregnant women, barley tea contains ample amounts of potassium, niacin, iron, calcium, folic acid, and other critical nutrients for pregnancy. It is also known to keep gestational diabetes at bay, coagulate the blood to prevent excessive bleeding during delivery, and prevent certain birth defects, such as spina bifida and neural tube defects.
Skin Care
Antioxidants come in many forms within barley tea, and all of them can help with oxidative stress in the body, which is what causes premature aging, wrinkles, and age spots. These beneficial compounds can also improve skin elasticity and keep you looking younger for longer!
Barley Tea Taste
The taste of barley tea is generally nutty, warm and aromatic, but that all depends on the type of barley you use, the level to which it is roasted, and whether you are serving the tea cold or warm. Many people compare the taste to coffee, and it also has the dark appearance of everyone's favorite caffeinated morning beverage.
However, it is decidedly less bitter than coffee and tea, making it the perfect replacement for these popular drinks. It has a natural sweetness to it, so it doesn't require sugar, lemon or honey, although some people choose to add a natural sweetener to barley tea. It should not be confused with barley water, a common beverage in the United Kingdom, which is prepared differently and is more similar to lemonade than coffee or tea.
How to Make Barley Tea?
Making your own barley tea at home will only require barley, water, a skillet, a coffee filter, a large pitcher and about an hour of your time! To make this recipe even simpler, you can buy pre-roasted barley at almost any Asian market. Otherwise, simply buy normal barley and proceed through these simple steps for a refreshing summertime drink – or a warm, wintry treat!
Ingredients
6 tablespoons of ground roasted barley
2 liters of water (filtered)
Lemon or honey (if desired for sweetness)
Recipe
Step 1: If using unroasted barley, add the barley grains to a skillet and roast them, shaking occasionally, until they turn a rich, dark brown.
Step 2: Once the grains are roasted, allow them to cool before adding them to an empty pepper grinder. Grind out the fine powder into a small bowl.
Step 3: Bring the water to a boil in a pot, then add the ground roasted barley. Bring the heat down to a simmer, stirring occasionally.
Step 4: Let the tea cool slightly (5-6 minutes), and then strain the mixture into a pitcher. You can use a coffee filter or cheesecloth to filter the fine barley grains.
Step 5: Place the pitcher in the

refrigerator

for cold barley tea, or serve immediately for warm tea.
Step 6: Add honey or lemon to taste, and then enjoy!
Does Barley Tea have Caffeine?
No, barley tea does not contain any caffeine. This makes this delicious beverage a great choice for a night drink! Not just that, but the lack of caffeine in this drink makes it a great substitute for coffee, thereby promoting good health and sound sleep.
It is also important to note here that some barley tea manufacturers may add caffeine to the otherwise caffeine free barley seeds. So do check the nutrition label before delving into this delicious drink.
Barley Tea Side Effects
As a grain-based tea, it can be a risk for those who suffer from Celiac disease or gluten intolerance, and it should also be taken with some caution by those with diabetes, as it can interact with certain medications commonly prescribed for diabetics.
Gluten intolerance: Barley tea contains gluten-containing grain, and should be avoided by those with gluten sensitivity
Surgery: It is also anticoagulant in nature, so it should be avoided by those who are undergoing surgery, as it can lead to complications
Hyperglycemia medication: The blood sugar-reducing properties of barley tea can be dangerous for those who are already on

hyperglycemia

medication. So you should speak to your doctor before adding it to your diet, in this case.
Breastfeeding: For pregnant women, there are actually many benefits to barley tea and no known toxins in the tea that could be dangerous. However, it is not suggested for mothers who are breastfeeding, as it can slow down or stop lactation.