Cashew butter may not get the same press as other nut butter like peanut, hazelnut, or almond, but it is no less enjoyable. Spicy, sweet, or plain, this butter has a creamy richness that you cannot help but love. It makes everything better, whether you put it on toast or add it to a stew. It is also remarkably easy to make. All you need are some cashews and some hardware. There are other good reasons to make it at home. Store brought butter is not just more expensive, it sometimes contains additives that you may not want, such as refined sugar.
It is a great option for vegans or those with dairy allergies. You can use it in place of regular butter or add it to give your stews, soups, or oatmeal an extra dose of richness. It also packs a host of benefits, thanks to its star ingredient, the cashew. Rich in calcium and essential minerals, it is good for your bones, muscles, nerves, and immune system. It is also good for people with diabetes, as you can read in our article on 9 Powerful Benefits Of Cashews.
How to Make Cashew Butter?
The basic cashew butter can be made with just cashews. But we recommend adding the coconut oil for a smooth creamy texture. If you want to make it special, you can also add a flavoring according to your taste. We've made this butter with maple syrup for a sweet spread and with spices for a more savory flavor.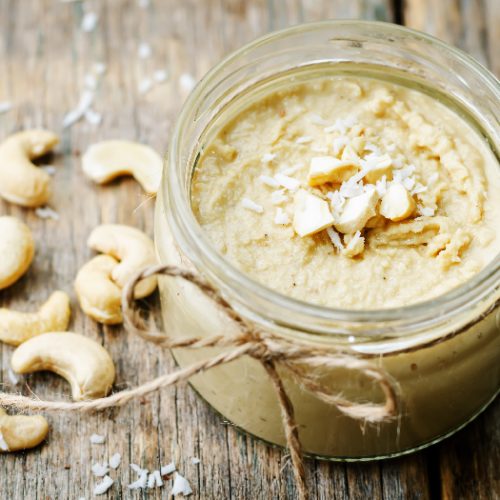 Easy Homemade Cashew Butter Recipe
You can make the butter with just cashews. Or you can add one of our flavoring options for an extra kick. You can add a dash of oil towards the end for a smooth creamy texture.
Print
Pin
Rate
Blending Time:
15
minutes
Ingredients
2

cups

raw cashews

1

tbsp

coconut oil or grapeseed oil

optional

1-2

tsp

maple syrup, coconut sugar, cinnamon, or chili pepper

optional
Instructions
Spread the cashews evenly on a baking pan and roast them at 325 degrees Fahrenheit for 15 minutes. Make sure that they are evenly spread out over the pan and not crowding.

Keep an eye on the nuts to make sure they don't turn dark and burn. The cashews should have a roasted, lightly golden brown color. Once roasted, take out the roasted cashews and let them cool down. This should take around 10-15 minutes.

Put the cashews with your flavoring of choice in a food processor or high-powered blender and start grinding. After 5 minutes, scrape down the sides, let it cool for a minute, and then start grinding again. Run the machine at 5-minute intervals.

You will see the texture of the nuts changing as you grind them. They will break down into a meal-like texture. Slowly it will start to clump together and thicken.

As the texture thickens and starts to look closer to nut butter, you may think you're done. But let it go on for a few more minutes. We recommend adding a tablespoon of coconut oil or grapeseed oil at this stage.

It will become smooth and creamy in a few minutes. Your cashew butter is ready! Scrape it out and store it in an airtight jar.
Notes
Make sure that you stop every 3 minutes. It ensures that there is no heat build-up as the nuts grind. The size of the blender or the food processor bowl is important here. For instance, you may need to increase the amount of cashews to 4 cups if it's a 12-cup bowl. This recipe works best in a high-powered blender like a Vitamix or Ninja.
A few things you should keep in mind:
You can make the butter with raw cashews. But roasted cashews make a more delicious spread. In addition, roasting the cashews will help in releasing their oils, making the process both easier and quicker.
We've recommended using coconut oil towards the end for a smooth texture and because we quite like the flavor of coconut oil with cashew. But if you don't like the flavor of coconut oil or are allergic to it, you can try grapeseed oil or any other oil of your choice. But be cautious when using a strong flavor like virgin olive oil.
Using a high-powered blender like Vitamix or Ninja really works here and helps you get a smooth texture. You can also try breaking down the cashews initially in a blender and then adding them to the food processor.
The simple cashew butter is delicious. But a few flavoring tweaks are super-fun and give it an added kick. For a sweet touch, add 1-2 teaspoons of maple syrup or coconut sugar. A savory addition can be chili pepper or paprika. We also found a recipe with a dash of lime and garlic!
How to Use Cashew Butter?
Cashew butter looks and tastes like frosting! The most obvious use for this creamy goodness is on your morning toast. But you don't have to limit yourself to just one dish. There are plenty of other options you can try, such as:
So, how do you like your cashew butter? Share your ideas and tips with us. If you have made this recipe, tell us about your experience. Write to us in the comments below.