Avocados and apples are fruits that have good nutritional value and also have various health benefits associated with their consumption.
Avocados are also known as Alligator Pears or Butter Fruits.
Nutritional Facts of Avocados
Avocados are a fat-rich fruit having a fat content of about 23%. They contains dietary fibers as well. They are rich in minerals such as copper, magnesium, manganese, and also contains some amounts of iron, calcium, iodine, selenium, zinc and phosphorus.
Vitamin Content of Avocados
Avocados are well known for their high vitamin K and A content. They also contain small amounts of vitamin B, C, E, thiamin, riboflavin, niacin, vitamin B6, biotin, and folate.
Calorie Content of Avocados
Fruits are normally not rich in calories and are typically favored for their ability to provide vitamins, minerals and digestive fibrous content. However, owing to the high fat content of avocados provides a good quantity of calories. A 100 gram sample of  the fruit provides about 215 calories.
Health Benefits of Avocados
The nutritional value of avocados make them good for treating indigestion, hair care, heart health, skin care, psoriasis, and bad breath.
Back to Nutritional Value of Food
Nutritional Value of Apples
As they say, an apple a day keeps the doctor away. The health benefits of apples are enormous, making them one of the most valuable and savored fruits throughout the world.
Nutritional Facts of Apples
Apples contain minerals such as magnesium, copper, manganese, copper, calcium, iron, potassium and phosphorus in small quantities. Apples also contain dietary fiber, which helps in reducing the levels of bad cholesterol (LDL Cholesterol)
Vitamin Content
Apples are rich in vitamin A and C. Their vitamin A concentration is higher in the outer skin than in the flesh. Like potatoes, the vitamin C concentration is higher just below the skin in apples as well. Therefore, the skin of the apple should not be discarded. Other vitamins present in apples include vitamin K, thiamin, riboflavin, and vitamin B6.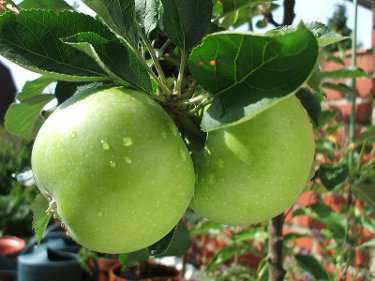 Calorie Content of Apples
Apples do not have as many calories as avocados or olives, yet they are still an excellent source of energy. The calorie content varies depending on the type of apple. Furthermore, apples contain sugars that are easily absorbed by the body. Hence, the weak and ill are often advised to eat apples for gaining weight and speeding the rate of their recovery.
Health Benefits of Apples
The nutritional value of apples make them useful for improving and healing indigestion, stomach disorders, anemia, weakness, dental care, dysentery, heart disease, rheumatism, eye disorders, cancer, gout, and skin care.
How to Choose an Apple
When you buy an apple, make sure that the apple skin is shiny. Furthermore, the apple should be firm and free of wrinkles.
Back to Nutritional Value of Food