The home remedies for dermatitis include regular skin cleansing, a mixture of elm bark, oak bark, and comfrey root, and oil treatment by mixing vegetable oil and lavender oil. Other natural treatments for dermatitis include applying chamomile flower essence, having nutritious food, and wearing cotton clothing.
Dermatitis is a skin condition that causes itching and inflammation. There are many types of dermatitis depending on the cause. Generally, this condition involves a rash which itches, and the skin becomes red and swollen. Sufferers may also see blisters, oozing, develop crusts or flaky skin. It is not a contagious problem, though it does make people feel uncomfortable and embarrassed.
Note: Dermatitis is often confused with eczema but they are different conditions.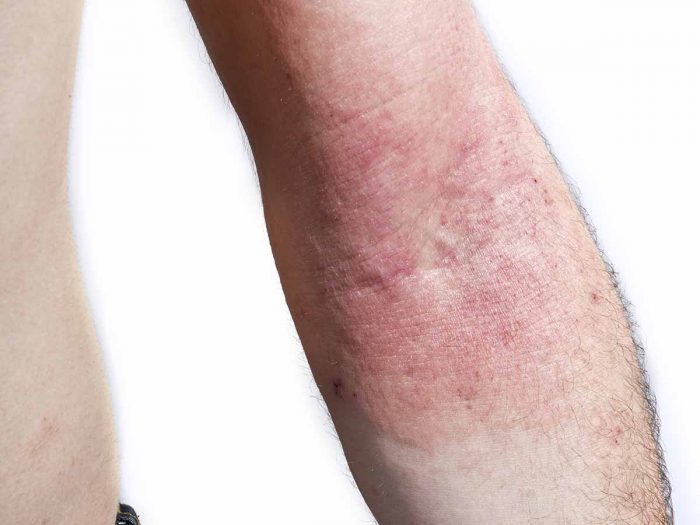 Treatments & Home Remedies for Dermatitis
Let us look at some of the effective home remedies and treatments that can provide fast relief against the uncomfortable complications of dermatitis:
Babool or Gum Arabic Tree
Ayurveda, the ancient Indian system of medicine and holistic healing, lists Acacia arabica as a viable treatment option for dermatitis. Also called the Babool tree or Gum arabic tree, the bark is particularly useful in treating dermatitis. Boil a small quantity of Acacia arabica bark in water and let the vapors reach the affected area. After this, clarified butter can be applied to the same area.
Skin Wash
Make a skin wash with powdered oak bark, slippery elm bark, and comfrey root for quick relief against irritation. Mix a teaspoon of each of these herbs in about half a liter of water and boil well. Carefully apply it to the affected area to soothe the inflammation. The use of some of these herbs is banned/restricted in countries such as the UK so consult your local health specialist before use.
Scalp Treatment
Scalp issues can be treated with therapeutic oils. Such oils can be created by mixing together vegetable oil as a base, along with a few drops of lavender oil. This solution is to be gently heated and generously applied to the scalp. This is to be left overnight and then washed the following morning.
Foot Treatment
Boil a tumbler of water with chamomile flowers. After cooling it, add some ice to the tumbler. Chamomile flowers are known to possess therapeutic properties, so soaking your feet in this solution will help relieve the symptoms. The same treatment can also be applied to the hands and legs.
Avoid Scratching
Avoid scratching the irritated areas as it can cause secondary infections. To avoid involuntary scratching, trim your nails, and try to use your fingers to massage, rather than nails to scratch. In the case of a child, trim his/her fingernails and put on some mittens for them while they sleep.
Avoid Dry Air
Dehumidified air worsens dermatitis. The air indoors must be kept moist for the patient. As humidifiers don't cover large areas, it should be kept next to the patient's bed to provide the best access to moist air.
Air Temperature
Avoid rapid changes in temperature surroundings. The sudden rise or drop in surrounding temperature could trigger the itching. Hot baths should also be avoided, as the skin should not be exposed to extreme temperatures.
Cotton Clothing
A patient with dermatitis can confidently wear cotton clothing. Cotton clothes provide the best comfort for the irritated skin. Woolen, polyester, and artificial synthetics trigger/aggravate itching. Tight clothes should always be avoided.
Honey
A study used honey on dermatitis patients with positive results. The honey was diluted in water and applied to the affected areas. Observations over a period of 12 weeks noted improvements in the conditions of most patients.
Nutrition
Immunity plays a key role in defending the body from allergens and irritants. Protect yourself by eating a healthy balanced diet with the necessary vitamins and minerals. Vitamin C, zinc, and vitamin B-complex are excellent supplements for improving immunity.
Aloe Vera
Several types of dermatitis cause small, unbearably itchy blisters to form on the skin. The application of aloe vera gel to the severely affected area can provide relief. The same can also be used for dermatitis under the eyes.
Oatmeal
A colloidal oatmeal bath is a good remedy to keep the skin clean and provide comfort against irritation. Simply mix a cup of powdered oatmeal into warm bathwater.
Call Your Doctor If…
Your sores start oozing. You might have an infection that requires

antibiotic

treatment.
The affected skin doesn't respond to medicated/prescribed creams.