The common remedies of emphysema include a few lifestyle changes and dietary modifications as well. There are quite a number of traditional medications used to slow the progression of emphysema, but not all of them are suitable for all patients. As this is a chronic disease of the lungs, home remedies can be very successful. You need to be patient with the treatment procedure. The home remedies have proven to be far more effective than conventional treatment modes. A nutritious diet and quitting the unhealthy habit of smoking will help combat emphysema. A combination of exercises and relaxation will provide a complete solution for emphysema. Small frequent meals will also reduce this problem permanently.
Home Remedies for Emphysema
There are two types of home remedies used to treat the symptoms of emphysema. You need to make certain changes to the diet and the lifestyle in order to combat this ailment. According to Mayoclinic.com, simple exercises make a great home remedy for emphysema.
Garlic
Garlic is capable of liquifying the mucus. This is how congestion is cleared through coughing. Hence, you should pop at least two to three garlic cloves in the morning on an empty stomach. Regular consumption of garlic can easily heal emphysema and prevent it from coming back.
Rose Hips Tea
Taking rose hip tea on a regular basis will release congestion in the chest and make the patient cough which leads to easy healing.
Eucalyptus Oil
Reducing chest congestion helps in curing emphysema. Massage the chest area with eucalyptus oil on a regular basis to eliminate congestion.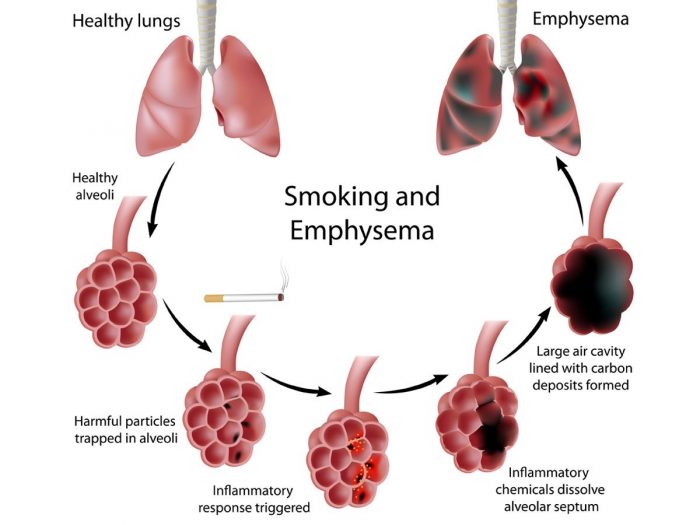 Nutritious Diet
If you consume a nutritious diet on a regular basis, it will reduce chronic emphysema. Maximum nutrition can be found in fresh and green vegetables and fruits. Avoid processed foods with preservatives as they worsen the condition. A patient of emphysema should also consume dairy products, grains, legumes, and meat to get adequate nutrition. It is advised to take several small meals throughout the day.
Juice
You can combat emphysema with the regular intake of various vegetable and fruit juices. The majority of them are rich in vitamins and minerals.
Vitamins
Vitamins have proved to be effective in slowing the progression or lowering the risk of emphysema. Two of the most important vitamins are C and E. You should include foods enriched with these two vitamins in your meals. In order to compensate for the vitamin deficiency, supplements and capsules can also be taken.
Quit Smoking
Smoking is the worst habit in terms of aggravating the condition of emphysema. The harmful chemicals in tobacco smoke are extremely hazardous for patients with emphysema. Therefore, quit the habit to get a permanent solution for this health problem.
Exercise Regularly
Exercising regularly will help you reduce the congestion in the pulmonary capillaries and alveoli, according to the American Lung Association. You can opt for any form of exercise or activity like swimming, brisk walking, and jogging to get your activity in!
Loose Clothing
Wearing excessively tight clothes often increases the discomfort. Therefore, keep your clothes looser, especially at the waist and chest areas. Ties and collars should be avoided for easy breathing.
Relaxing
Relaxation is another wonderful remedy to reduce emphysema symptoms. You should not keep thinking about the disease all throughout the day; it will only increase stress. You need to think positively to get rid of the disease for good.
Reference: National Centre for Health Statistics and Mayoclinic.com